Date: Monday, 31 December 2018
Time: 8.00 pm‐12.15 am
Location: Christ Church Hall
Address: Guisborough Road, Great Ayton, TS9 6AA
Popular annual New Year Ceilidh event held in Christ Church Hall Great Ayton.
"We hope you will be able to join us in dancing the evening away, with the Cleveland Bays Folk Band and caller Ian Appleyard, until midnight strikes and then see the New Year in together. Many of you will know the band from the ceilidhs they run during the year in the WI Hall. Come by yourself or with friends, bringing your own food and drink. We'll be there to welcome you and show you to your reserved seat(s).
Date: Monday 31st December 2018
Venue: Christ Church Hall, Great Ayton
Timings: 8:00 pm - 12.15 am
Ticket price: £12.50
Tickets are available from Thursday 1st November.
Phone 01642 723137 or email to enquire about buying tickets.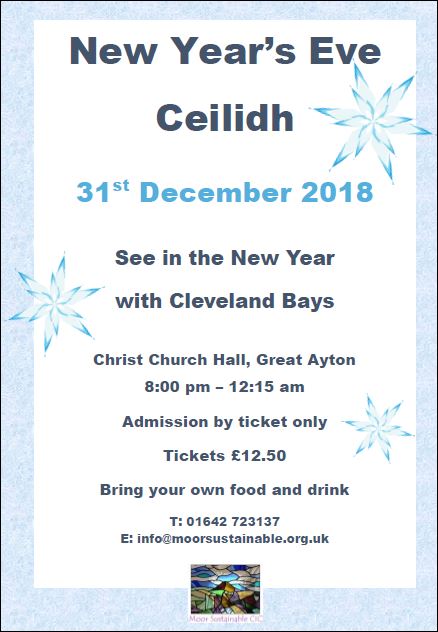 Poster courtesy of Moors Sustainable