Date: Saturday, 18 May 2019
Time: 11.00 am‐12.00 pm
Location: Low Green
Address: Great Ayton, TS9 6NN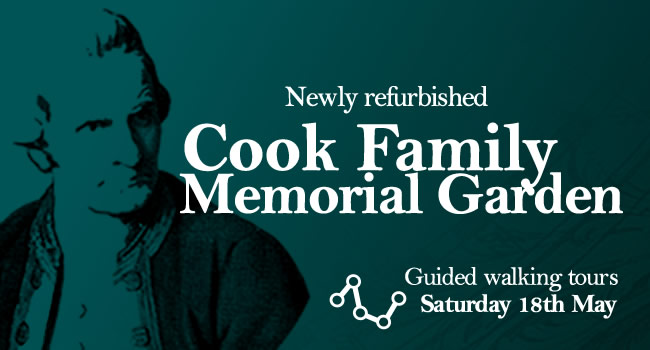 Informative and interesting walks taking you around important historical areas of Great Ayton relating to Captain Cook.
A series of walking tours will be open to the public on Saturday 18th May celebrating the reopening of the Cook Family Memorial Garden following an intensive refurbishment project.
The morning guided walk will commence at 11.00am meeting at the Cook Family Memorial Garden on Easby Lane. The walk will include Ayton Hall, All Saints' 12th century church and churchyard, where Captain Cook's mother and siblings are buried, and The Buck Inn. The walk will be led by Barbara Saunders, Ian Pearce, Ben Shanks and Ken Taylor.
Further information for the guided walking tours:
| | |
| --- | --- |
| Guided walking tour around the Low Green area | 11.00am |
| Guided walk to Aireyholme Farm leaving from Great Ayton Discovery Centre | 11.30am |
| Guided walking tour around the Low Green area | 2.00pm |
| Guided walk to Aireyholme Farm leaving from Great Ayton Discovery Centre | 2.30pm |
To find out more information for the Cook Family Memorial Garden follow this link