Date: Saturday, 7 August 2021
Time: 10.00 am‐ 4.00 pm
Location: Stokesley Showground
Address: Helmsley Road, Levenside, Stokesley, TS9 5JL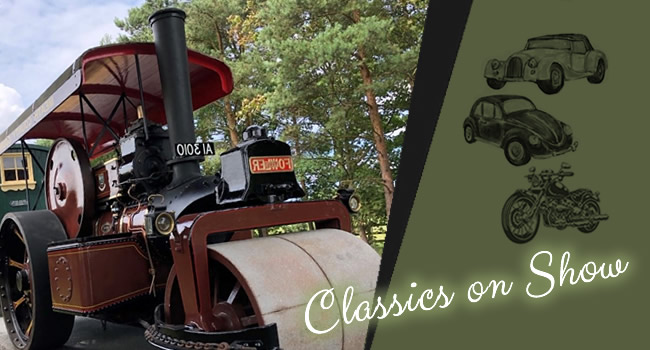 Stokesley's Classics on Show 2021 to get a touch of the Irish.
Stokesley's Classics on Show which will this year be held on the Stokesley Showfield on Saturday, 7th August will have a definite Irish connection.
Event Details
Going on display is a 1927 Fowler 10T DNB Tar Spraying Road Roller, No. 17289, nicknamed 'Squash', which spent its entire working life laying and fixing the rolling roads of County Meath in the service of the local council. The roller was bought by Stokesley engine fanatic Nick Frank in 2015 and he then spent years painstakingly restoring her into her present mint condition.

The showing will mark the Classics on Show debut of 'Squash' which is likely to win some admiring looks. Owner and restorer Nick is looking forward to demonstrating her power and is also hoping to exhibit his 1920's Fowler Roadman's living van which was previously used by the West Riding of Yorkshire Council.
New to the show is a display by Eden Camp, the modern history themed museum near Malton which is planning to exhibit two of its popular 1943 vehicles from its extensive WWII-related collection. Eden Camp experts will be on hand to answer all questions about the vehicles and will run a competition to test visitors' knowledge with the winner going home with a family ticket for a day out at the museum. Also on hand will be the Camp's re-enactment group who will bring the WWII theme to life for visitors.

Classics on Show 2021, which is organised by the Rotary Club of Stokesley, is supported by Mathewson's classic vehicle auctions of Thornton-le-Dale and sponsored by SG Petch, the family run multi-franchised car dealership, and Lexus Teesside. This year, for the first time, the show will feature a dedicated Motorcycle Arena.
The show will also feature a new-look NAAFI Café run by Chapters Bistro of Stokesley.
Admissions
Exhibitors: Free to enter, though donations are welcomed - to be set-up no later than 9.30am
Visitors: £6 per person or £14 for a family ticket
Auto jumble traders: £15 for a standard pitch
The event regularly attracts up to 400 exhibitors. Funds raised from this year's show will go the Great North Air Ambulance, The Samaritans, Blood Bikes, and other Rotary supported charities.
For further information visit
Article information courtesy of Barbara Saunders and Classics on Show.