Date: Saturday, 21 April 2018
Time: 9.00 am‐ 4.00 pm
Location: Christ Church Hall
Address: Guisborough Road, Great Ayton, North Yorkshire, TS9 6AA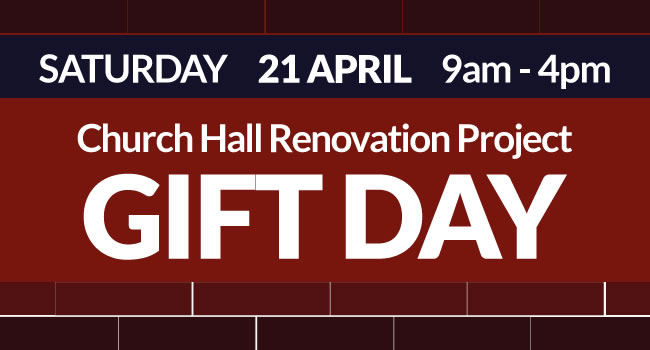 The much-loved and well used Christ Church Hall in Great Ayton will be having a makeover!
On Saturday 21st April 2018 the Christ Church Hall are holding a 'Gift Day' from 9am - 4pm outside the Church Hall in a gazebo on Guisborough Road to help raise funds to bring the facilities into the 21st Century and are asking for your help.
A leaflet and envelope drop has been delivered through all doors in the village, and you can return your's to the Hall or the Discovery Centre, using the Gift Aid envelope if you are a tax payer.
The Hall target figure for all the work and equipment is £120,000. The Church Hall has been awarded two grants so far from the LEADER Fund and from Impetus, however, an additional £30,000 is required to successfully complete all works which are due to start in June this year with aim for completion at the beginning of September.
What are Christ Church Hall hoping to do?


New heated toilet block built behind the Coffee Lounge easily accessible to the Main Hall.
New kitchen facilities in the main kitchen, including a high speed dishwasher and glass washer in the Coffee Lounge bar to encourage use of crockery rather than disposable plates and "glasses". The kitchen will also comply with regulations for hygiene and food preparation.
Sealing off the stage area, and creating a clear passage through for toilets and kitchen, and moving storage into the former Gents toilet in the Hall and a spare part of the kitchen area.
New chairs and new small tables for the hall, and extra light large tables.
The Church Hall has formed many fond memories for Hall users and guests over the years from drama productions to dances, children's parties to New Year ceilidhs and is an extremely well-used and active venue catering for all sorts of different groups, organisations and events.
Let's help give the Hall the renovation it requires to help provide the opportunity for many more happy memories to be made by future generations.
Any cheque donations to be made out to Great Ayton PCC.
The Church Hall also has a Just Giving page available through the following link