Published on 27 Sep 2016 | Topics: #VisitGreatAyton
...and the weather wasn't that bad either, it was a scorcher!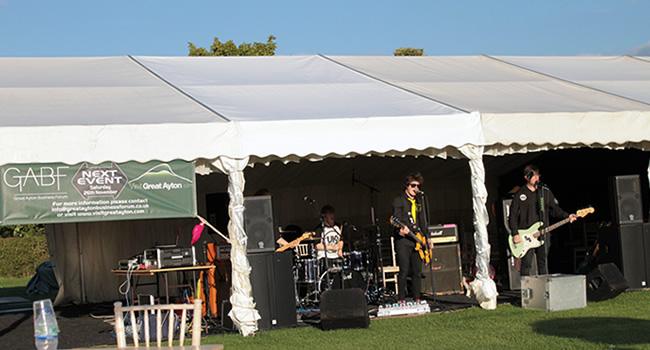 What a great turnout - loads of families and friends of all ages and the weather wasn't that bad either, it was a scorcher! The Great Ayton Cricket and Football Clubs put on a great event accompanied by amazing live music provided by the Great Ayton Business Forum and promoted by Visit Great Ayton.
Keith Wilcox and his team of volunteers from the club worked so hard to put together the fun day and must be greatly credited for this. The weather and the live music certainly brought an extra touch of magic to the whole day which saw profits from the event reach £2,007.65 plus a great bar total too which would put the overall total up to approximately £3,500.00!
A massive thanks must be extended to Kevin of First Choice Marquee Hire for allowing the Business Forum to use his marquee to host the bands, to Mark Dutton of Soundwaves PA for providing the sound and the bands and to 1st Great Ayton Scouts for supplying a second marquee for the cake stall. All were provided voluntarily and free of charge for this event. Thanks must also be expressed to Kath and Mark Phalps of School Farm who kindly donated a small trailer for the event which wasn't required in the end, however, was appreciated all the same.
A very enjoyable and successful event all round!