Published on 12 Dec 2016 | Topics: #christmasnews
Local Great Ayton lady wins the Great Ayton Business Forum Christmas Angel Trail Competition!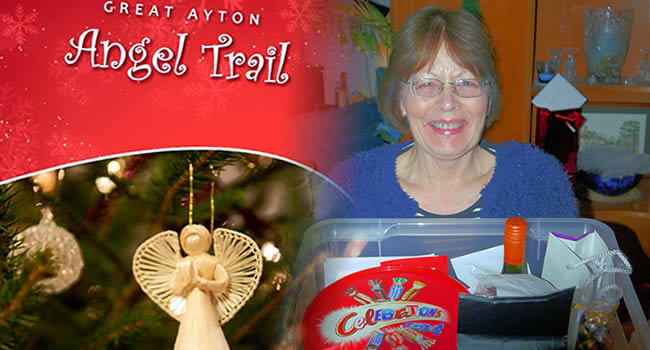 Congratulations to Mrs Plews of The Wheatlands in Great Ayton who was the lucky winner of the Great Ayton Business Forum's Christmas Angel Trail competition held to coincide with the first ever Great Ayton Christmas Fayre also organised by the forum.
Mrs Plews commented on her recent win - "I can't believe it. I never win anything," said a surprised Mrs Plews who plans to share out her prize amongst her family! Mrs Plews received a box full of goodies, from food and treats to vouchers for her to spend at the local shops.
The Angel Trail Competition involved nineteen local High Street businesses displaying an angel in their shop window each with a unique letter attached. When all letters were found the anagram then had to be deciphered. A massive thank you must be extended to all the local businesses who helped out by selling the competition entry sheets and donated goodies for the prize, to Pete at the Whinstone View for designing the poster and entry form and to Debbie Calgie for all her great assistance with the competition.