Published on 16 Aug 2019 | Topics: #VisitGreatAyton
Great support from local volunteers for big River Leven clean up.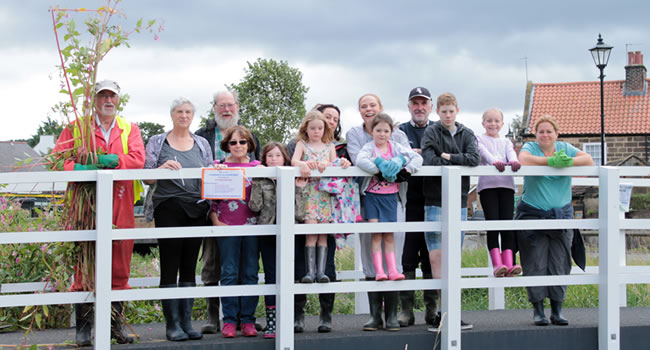 On 10th and 11th August the Great Ayton Parish Council open spaces work group organised the Big River Leven Clean Up, a community event aimed at cleaning up river debris and rubbish in the River Leven to assist in managing the local wildlife ecosystem and helping to maintain the river and riverbank looking tidy for visitors and residents alike.
Despite the weather, a healthy team of local volunteers of all ages turned out on Saturday morning to help with the clean up.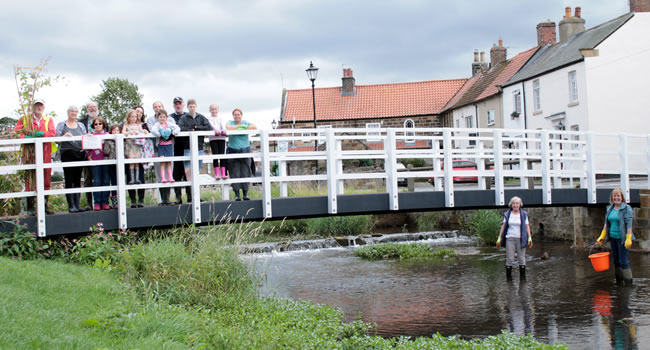 An unusual amount of pond weed had built up along the banks of the Leven as well as Himalayan balsam and grasses. The team of volunteers set about rolling back the pond weed to remove it at root level whilst other worked on removing the balsam and other excessive build up. Large stones and rubble were relocated away from the edges of the river to improve water flow and reduce silt build up.
Great Ayton Parish Council are currently devising a new and effective river and open spaces maintenance schedule which can be particulary difficult to manage given all the different aspects, interests and responsibilities it covers including: control of aquatic weeds, flood defence and effective drainage, protection of natural habitats for animals and fish and that of pollinators and conservation with minimal ecosystem disturbance.
Two skips were filled with the debris pulled from the river which visibly has made a big difference to flow and look of the riverbank. The event was praised by many passers-by.
More community events such as this are to be organised by the council covering the open spaces of Great Ayton.