Published on 26 Jun 2020 | Topics: #GreatAytonNews
The Arriva 81 bus service between Great Ayton and Guisborough will be replaced by the 81S from Monday 29th June.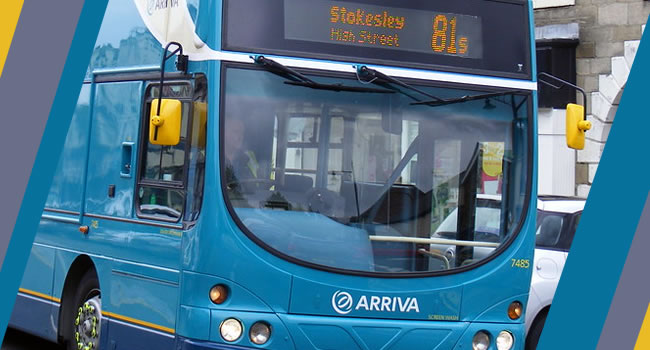 The 81 bus service was to be discontinued in April, however, was kept running due to the current Covid-19 crisis.
Arriva North East will operate a temporary shuttle service running hourly between Stokesley/Great Ayton – Guisborough to assist passengers during the current pandemic. Service 81S will commence on Monday 29th June and will operate Monday to Saturday until the end of August 2020.
From Monday 29th June this service will be replaced with the 81S which will start at Stokesley High Street then Great Ayton - High Green, Hutton Gate - Falcon Way and Guisborough Market Place only. You can find the new timetable through the link below.
The current passenger limit is 11 per bus, however, this could change in due-course. There is no standing allowed.
Please spread the word to those who you know use this service and may not have online access to find out this information.
The following information is courtesy of Arriva:
Face coverings must be worn onboard
Some people will be exempt from wearing a face covering
Carry hand sanitiser with you if possible
Please keep windows open to help with ventilation
Please pay by contactless or via our m-ticket app – only pay by cash if you have the exact change as our drivers cannot issue change
Do not stand or queue in the aisle of the bus or next to the bus driver
Please be patient and wait for passengers to get off the bus before you board
Keep a 2 metre distance away from other people at bus stops
We have also implemented social distancing measures to help protect our drivers and customers wherever possible.