Published on 05 Oct 2020 | Topics: #GreatAytonNews
Great Ayton Tennis Club are bringing year round floodlit tennis to Great Ayton this October.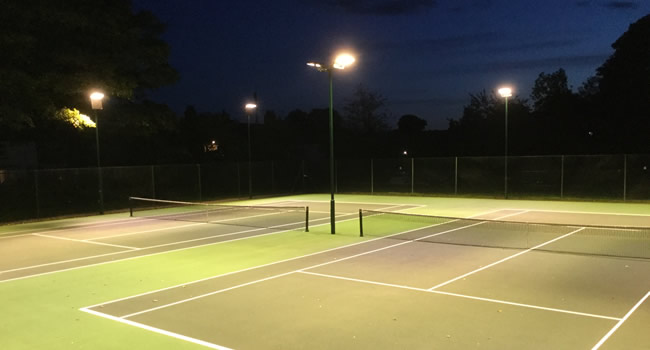 Great Ayton Tennis Club is delighted to announce that for the first time in our 80 year history, we can now provide all year around evening, as well as daytime, tennis playing facilities. After school, work or just for fun, evening tennis playing is now available under our new floodlights. Bringing light to the six dark months from October to March and providing approximately 1000 hours of additional playing time.
Every 20 years we have refurbished our courts and upgraded our facilities to satisfy the changing needs of the community. Since becoming a Registered Charity and Community Asset in 2017 the Club has resurfaced courts 1 - 3 with a state of the art "Poraflex" surface, celebrated our 80th Anniversary in Great Ayton and in October we switch on floodlighting on our newly resurfaced courts 4 and 5.
Our investment in state of the art "Poraflex" surfacing provides a compliant surface that reduces joint damage, pain and falling risk particularly for our older and younger members. It is also liked by the best players; due to the pandemic the most promising juniors in the region chose our courts for their otherwise interrupted training programme. The Club has safely hosted and enabled games between the best juniors in Yorkshire and allowed their top-level performance coach to continue their training. As a result, our first division men have also had a few lessons not otherwise available to them.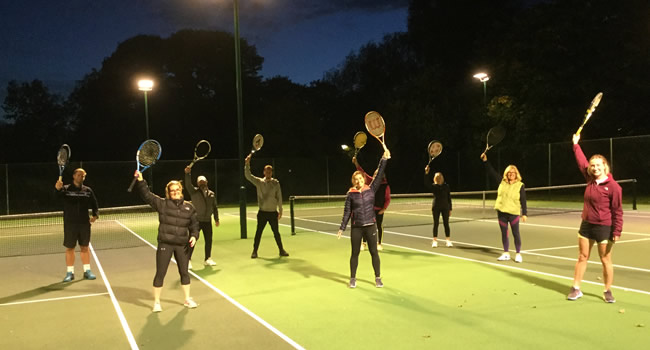 Coaches and members enjoying trying out the new floodlit courts. (LTA Guidelines state that sports clubs can have more than 6 adults if it's an organised event with risk assessments put in place) - photo courtesy of Great Ayton Tennis Club
As a member of the LTA (Lawn Tennis Association) the club has a "Growing our Membership" plan to make tennis playing available to a larger number of people. This requires increased availability of our facilities for all year around tennis playing, particularly in the evenings, when working mums and dads and their children have the time.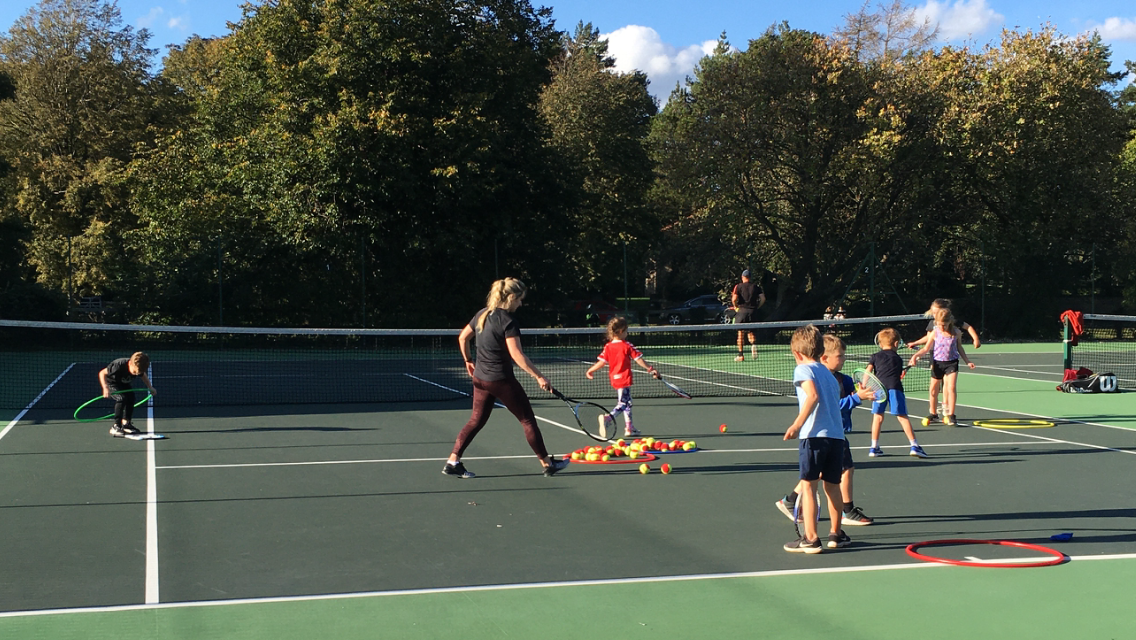 Kids coaching at the club - photo courtesy of Great Ayton Tennis Club
Today the Club has two part-time professional coaches and two assistant coaches now providing services during the day, some evenings and at weekends. As a Charity and LTA member GATC is required to enforce strict "Safeguarding" policies. It was therefore not difficult to provide Covid compliant procedures.
One of the unexpected benefits of the pandemic has been the realisation by new members of the safe physical and mental health benefits of tennis playing. On court, social distancing is automatic. As well as being outdoors Singles and Doubles involves a net separating one or two players. Swinging rackets to hit the ball keeps players at least 1 metre apart.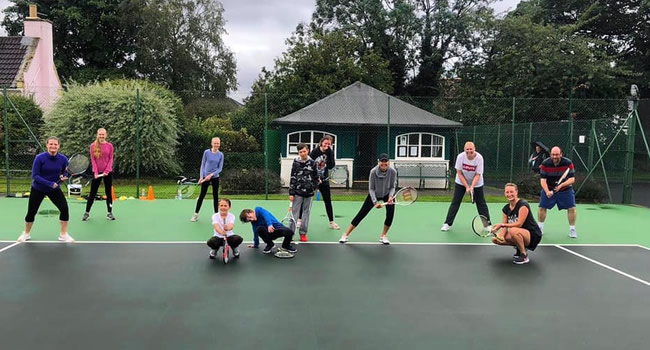 Cardio Tennis at the club - photo courtesy of Great Ayton Tennis Club
Tennis as a keep fit activity is called Cardio Tennis (LTA Copyright). The Club has two coaches trained to provide classes - Saturday morning and a morning weekday session is planned. For those who play to win, tennis provides an intense physical experience. Mental agility comes from the fact all players can marvel at our brain's ability to connect a racket to a ball flying towards us from all angles, heights and speeds and we can hit and return the ball in a way that causes the opposition added difficulty in making a connection - hitting it back. Good ball placement can beat the fastest champion.
For all members being part of a Club provides the health benefits of social interaction and friendship. The objective of the volunteers who run the Club is to enable everyone to enjoy the game.
Tennis Club members trying out the new floodlit courts - photo courtesy of Great Ayton Tennis Club
It is not hard to believe that visitors, whether teams or tourists, enjoy playing tennis in Great Ayton and the stunning views of Roseberry Topping and the surrounding trees and laurels.
Visit our website (www.greataytontennisclub.co.uk) and watch our drones eye videos of our facilities. Why not get in touch and take up a trial membership this Autumn and get ready for a full years' tennis from 1 Jan 2021, make new friends and look forward to celebrating with us in 2022 our 70th Anniversary at Mill Garth (enclosed field by former mill) across the river Leven from Low Green.