Published on 02 Dec 2020 | Topics: #GreatAytonNews
Ted Fletcher tells his tale of a holiday visit packed with surprises.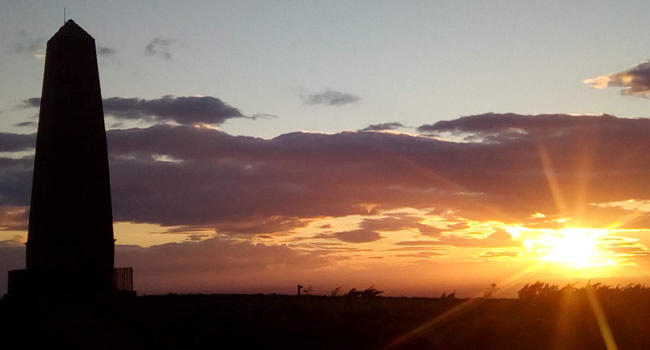 Looking forward to a North Yorks holiday later in the year helped me survive a sardine-can existence alongside nine million fellow Londoners during much of 2020. When the first of September eventually screwed its courage to the sticking place and popped up on my Covid calendar, I huddled behind a double face mask and defended my square metre of personal space aboard a Tube as it thrust me like a stuffed mole into Kings Cross Station …
Minutes later I was north-bound on an LNER Azuma headed for my ancestral homeland at 100 m.p.h. on the straighter stretches of its track. Darlington, where the world's first passenger train had arrived from Stockton 187 years earlier at an average speed of just 14 m.p.h., had a neon board that informed me of a train for Redcar East, my ultimate destination, that would arrive in five minutes …
Back in the 1970s Whitehall bureaucrats "rationalized" English county borders and exchanged my birthright for a postcode and an artificial administrative region they christened County Cleveland. I, and several thousand like-minded Tykes, told them where to stuff it … which is why my northern postal address still reads: Redcar, North Yorkshire.
I spent the remainder of September as a welcome guest at the homes of various kith and kin. They put up with some of my much-missed pleasures: buying freshly landed fish from the few cobles still working Redcar beach … low tide hunts for rare fossils on a foreshore not a pebble's throw from Skinningrove … foraging for bilberries at --- no, I'll keep that location under wraps.
Then there was my other hobby (some called it an obsession) – tracking down a dozen schoolboy pals I had not clapped eyes on since the 1950s. Younger readers may find it strange that people can fall off the social radar so comprehensively; but I'm referring to pre-internet days; and to old chums who kept in touch via pen, paper and postage stamps back in the day. Despite my career path (journalism) obliging me to grasp a few Electronic Age nettles in the 1980s, I had in fact successfully run to earth all but one of my old chums using those same steam-driven tools; but the last on my list – Geoff S. – had remained persistently elusive for years ..
On the penultimate day of my holiday grumpy Fate glanced in my direction and decided to punish me for enjoying myself too much during that month of freedom from deadlines and keyboards. He (or is it she?) thumped me in the pit of my stomach. I went down with a groan until an even more excruciating agony turned off all sensation and I drifted into ….
I have no clear recollections of the next twelve hours; but I did hear an ambulance wail; and see white shrouded figures looking down on me; and taste blood on my tongue; and feel the pulse of strange liquids flowing into my veins; and catch the scent of disinfectants on the air. "Where am I?" a voice echoed inside my head. A pleasanter reply came from the bedside: "You're in James Cook University Hospital. You've had a perforated gastric ulcer repaired, and we've sewn you back together again with nineteen neat stitches; and all you have to do for the next twenty-four hours is press this button if the pain becomes unbearable. It will deliver a numbing shot of morphine … but you can't have more than six presses per day …"
Despite a week on the drug that transported me to the octogenarian equivalent of Disneyland half-a-dozen times a day, I managed to take in some sense of my Brave New World and the people in it: a spick-and-span intensive care unit; talented surgeons and their assistants who set me on the road to recovery; dedicated nurses whose care and attention supported me to the day I managed to walk the length of the ward … and from there, a week later with slightly faltering steps, to discharge via the I.C.U.'s exit doors …
Before boarding a train for my return to London a week later, I persuaded a young nephew to drive me out to Great Ayton's Dikes Lane car-park, from which we took a gently stroll to Captain Cook's monument where I paid my respects to the explorer's memory, and gave thanks for all the help I had received from fellow Tykes during the previous couple of weeks. On a nearby noticeboard I spotted mention of the Great Ayton History Society. It induced a half-forgotten memory that the sister of my lost pal, Geoff S., had married a chap from Great Ayton. That thought eventually linked me, via email, to Sarah Botez, who offered to publicize my search on a Facebook page titled I Love Great Ayton, through which I made contact with Geoff's sister, by that time living in nearby Danby. We enjoyed some happy childhood reminiscences in a subsequent phone call before she gave me the sad news that Geoff had died more than twenty years earlier.
Her revelation finally closed the book on my search for schoolboy pals … but it has opened another which involves research at the National Maritime Museum in Greenwich, questing for further information on Captain Cook's adventures …
Feature kindly written and presented to Visit Great Ayton by Ted Fletcher