Published on 14 Sep 2021 | Topics: #GreatAytonNews
How do you create long term funding sustainability for your North Yorkshire community group, organisation or charity?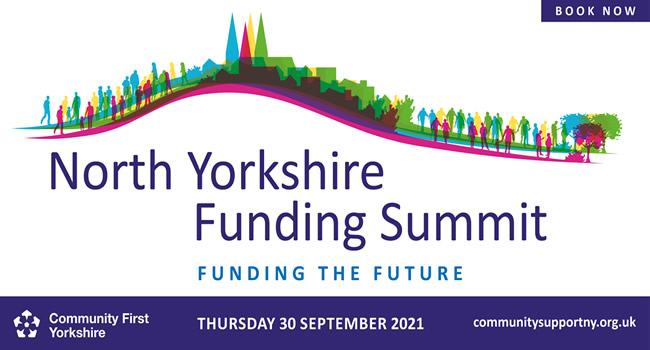 Hear straight from the horse's mouth what funders want from applications, what projects they support and practical tips to help you get that grant.
The North Yorkshire Funding Summit – Funding the Future - will give you the tools to build your long-term financial resilience and secure the funding you need to be sustainable.
Date and time: Thursday, 30th September 10am – 4.30pm
Registration fee: £5 per person (inc. VAT)
The Funding Summit will be held on Zoom.
Key note speakers
Debra Allcock Tyler, Chief Executive of The Directory of Social Change as she discusses long term funding sustainability and what charities need to do now.
Ben Cairns, Director of the Institute of Voluntary Action Research (IVAR) will be talking about if, and how, the progressive funding practices of the last 18 months can be sustained and enhanced.
Seminars
Hear from local, regional and national funders including: The National Lottery Community Fund, Two Ridings Community Foundation, Key Fund, Sirius Minerals Foundation, the Henry Smith Charity and many more in a range of seminars. Find out about their funds, dos and don'ts for making applications and have your questions answered.
Discussion panels
Panels of experts from funders and support organisations will discuss your funding questions on: village halls and community buildings; mental health; sport, and a general discussion around 'funding the future'.
Bookings are now open, so secure your place to hear from inspirational speakers and book on the seminar of your choice www.communityfirstyorkshire.org.uk.
Information courtesy of Community First Yorkshire.