Published on 10 Dec 2021 | Topics: #GreatAytonNews
Deadline extended until 21st February for entering the Flavours of Herriot Country Awards.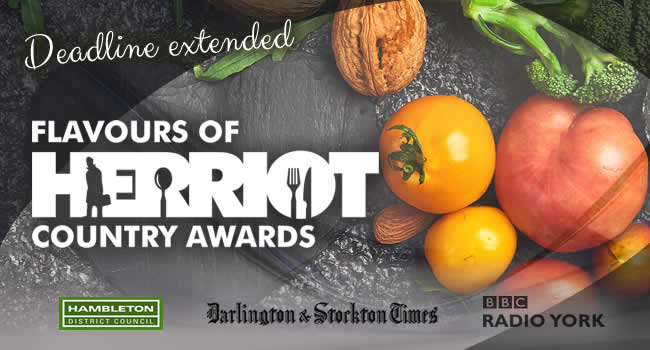 An update has been announced by Flavours of Herriot Country Awards - the deadline has been extended until Midnight on Monday, 21st February!
There is happiness in the air once again as, after taking a long, enforced break due to the pandemic, the Flavours of Herriot Awards are back celebrating the best across our region in the food and drink industries!
Launched on Friday 3rd December 2021 and now in their 9th year, the awards are one of the most notable and recognised across Yorkshire, covering the areas of Hambleton and Richmondshire. The closing date for entries is midnight on Monday, 14th February 2022.
The awards will be held at Solberge Hall on Monday, 9th May 2022, hosted by BBC Radio York presenter Elly Fiorentini.
"It will be a very special, memorable and exciting awards event, for many reasons. A time for us to get together and congratulate each other, and to really celebrate everyone's incredible achievements, despite the fragile climate we have all been faced with," says Irene Myers, Chair of the Flavours of Herriot Awards. Irene continues, "A credit to you all for drawing on your resources, diversifying, supporting your communities, feeding those in need, offering food deliveries and working so hard, sometimes against the odds, to make sure all this happened. This is what the awards will be about, to recognise all the hard work, going that extra tough mile, alongside running your day to day businesses. We can't wait for all your entries to come rolling in, to hear how you made a difference, and how your business has grown in strength, and determination. We want to applaud you!"
The award category criteria, how to enter, and what support material businesses can include are available at www.flavoursofherriotcountryawards.com The full list of categories and their sponsors is below:
Breakfast of the Year - Herriot Country Tourism Group
Tea Room of the Year - Solberge Hall (Classic Lodges)
Local Product of the Year - Shepherds Purse Cheeses
Specialist Retailer of the Year - Rounton Coffee
Afternoon Tea of the Year - TT Installations Ltd
Pub Food of the Year - Hambleton Brewery
Restaurant of the Year - Hambleton District Council
Baked Product of the Year - The Yorkshire Tour Guide
Customer Service Team of the Year - Grand Central Rail
Locally Produced Beer of the Year - Barker Partnership
Young Professional Chef of the Year or Catering Student of the Year - North Yorkshire County Council
Readers Choice Awards - Darlington & Stockton Times
Main supporter and sponsor is Hambleton District Council, also sponsored by the World of James Herriot and Middlesbrough College. Media partner is the Darlington & Stockton Times in association with BBC Radio York.
The above information and use of logo is courtesy of the Flavours of Herriot Awards.