Published on 24 Mar 2022 | Topics: #GreatAytonNews
Sunderland University are looking to work with businesses and partners to develop KTPs (Knowledge Transfer Partnerships), funded programmes and provision, develop opportunities to network and host events.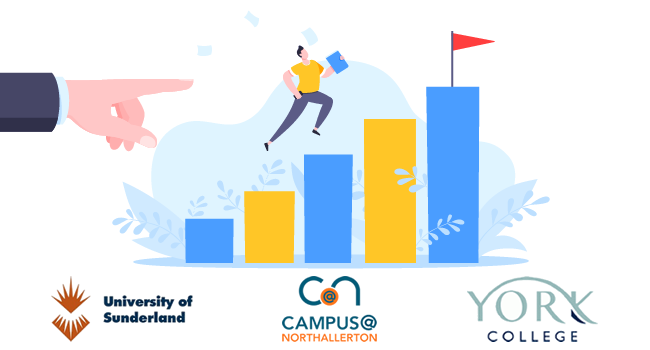 The University of Sunderland was invited to establish a Higher Education presence in North Yorkshire by Hambleton District Council to respond to the regional skills needs in Northallerton and North Yorkshire. The new Campus is based on the Treadmills Site in Northallerton and can be easily accessed by rail or car. The facilities at the Campus@Northallerton (C@N) are amazing and will offer employers and individuals the flexibility to develop new skills to facilitate personal and business growth via a wide range of learning, skills, and education routes.
"I'm thrilled to be representing the University of Sunderland in Northallerton and thrilled to be able to share this update" says Bev Trees, Development Manager at Campus@Northallerton.
Taster Sessions
There are numerous taster sessions (some free, some paid for) that the University of Sunderland are launching from April 7th with a Digital and Business focus. Businesses and business networks would benefit from attending. The details of the courses offered and how to book can be accessed through the below link.
There are also courses available in improving digital skills across your business.
Places are limited so early booking is advised!
What is next?
Sunderland University are currently developing a website that will show the full offer from the University from the Campus@Northallerton. Along with courses, the University will look at working with businesses and partners to develop KTPs (Knowledge Transfer Partnerships), funded programmes and provision, develop opportunities to network and host events, promote the online provision and will work with other educational partners to really make an impact in North Yorkshire.
Breakfast Briefing
On April 6th, Hambleton District Council are hosting their regular Breakfast briefing at C@N. Places are limited, please see below link flyer for information which includes booking information.
Curriculum Development
The University is also interested to know what else is needed to support Employers. Bev Trees is organising an Employer Engagement Event on May 4th where Employers will be able to talk directly to their Work based Learning Team on skills gaps and the opportunities they face within their business. The University's aim in North Yorkshire is to ensure the provision meets local demand and therefore they really want to talk to businesses directly.
How to book on? The event on May 4th will take place from 10.30am – 12midday or 1pm – 2.30pm. There is a networking lunch from 12midday until 1pm. Please contact Bev directly regarding this session or to find out more. bev.trees@sunderland.ac.uk
Graduate Support and Development
Bev has also organised a roundtable event on March 22nd with key economic leads and stakeholders to understand the issues with Graduate recruitment, we want to explore what the University of Sunderland can do to support this. If anyone would like to know more, please get in touch.
If anyone has any queries regarding the University, please let Bev know, we are in the process of developing a Campus website and social media channels, I will also be developing a regular newsletter. We are committed to creating an HE offer that genuinely meets the needs of North Yorkshire businesses and there are some really exciting future opportunities.
Information courtesy of Bev Trees circulated by Hambleton District Council.