Published on 30 Mar 2021 | Topics: #GreatAytonNews
Caroline Kitching owns land at Howard Court in Great Ayton. She has been involved with Climate Action Stokesley and Villages (CASaV) and is enthusiastic to help with saving the planet.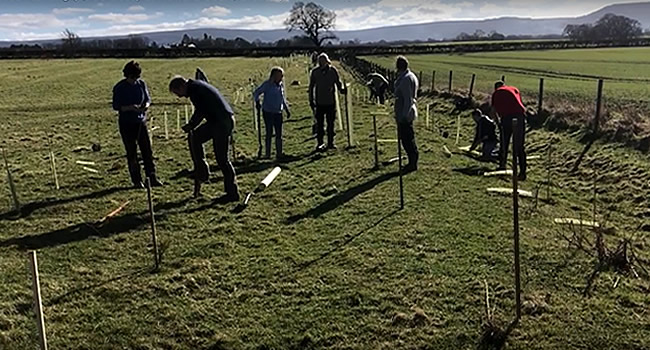 When she heard about Protect Earth, a charity aiming to plant trees across the U.K, she jumped at the chance to have trees planted on some of her land. Working with Caryn Loftus, co-ordinator of CASaV, Caroline arranged this weekend of tree planting with four three-hour sessions and about 16 volunteers in each session. The trustees of Protect Earth (Phil, Andy and Edd) organised obtaining all the trees, canes, guards and gave a demonstration of how to plant the trees. By the end of the first session, with great support from Protect Earth, the volunteers had planted about 480 trees.
Mike Newton has put together a video about the Saturday morning tree planting session. On the YouTube, Caryn Loftus thanks all the volunteers and explains the background to tree planting. She goes on to explain all the other areas that CASaV is involved in. She has since commented, "There have been a couple of queries about people travelling to help plant trees so it is worth mentioning that Protect Earth, the charity who supplied the trees and oversaw the planting, checked the Govt Covid guidelines and confirmed that travel for work and volunteering was allowable. The majority of volunteers were from the local area as for lots of reasons we need to limit our travel as much as possible. The few from further afield were the Protect Earth team and family who help manage the land".
Video courtesy of Mike Newton
A wide variety of native trees was chosen to be planted including a new woodland area of:
Common Oak (Quercus robur)
Sessile Oak (Quercus petraea)
Silver Birch (Betula pendula)
Wild Cherry (Prunus avium)
Crab Apple (Malus sylvestris)
Rowan (Sorbus aucuparia)
Wych Elm (Ulmus glabra)
Hazel (Corylus avellana)
Hawthorn (Crataegus monogyna)
Holly (Ilex aquifolium), Elder (Sambucus nigra)
Blackthorn (Prunus spinose)
Guelder Rose (Viburnum opulus)
Alder (Alnus glutinosa)
Downy Birch (Betula pubescens)
Crack Willow (Salix fragilis)
Also, a shelter belt including:
Hawthorn
Blackthorn
Alder
Small-leaved Lime (Tilia cordata)
Field Maple (Acer campestre)
Holly
Box (Buxus sempervirens)
Sea Buckthorn (Hippophae rhamnoides)
Alder Buckthorn (Frangula alnus)
Even some Holm Oak (Quercus ilex)
A total of over 1,750 trees were planted over the course of the weekend.
If you would like to know more about the work of the Climate Action group then visit our website or Facebook page. You can sign up to receive our mailing which comes out about once a month.
Article provided by Caryn Loftus and Mike Newton