Published on 26 Apr 2021 | Topics: #UKBusiness
We are incredibly excited and pleased to announce that Studio Botez Ltd, parent company of Visit Great Ayton, has won the North England Prestige Award for Software as a Service Provider of the Year 2020/2021.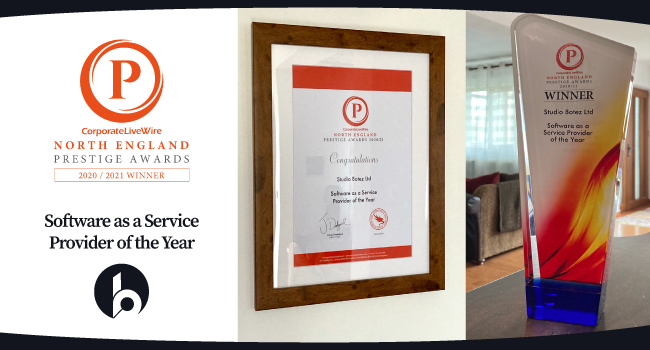 The Prestige Awards first started 16 years ago where they have been running national and international awards under the Luxury Travel Guide and Corporate Live Wire platforms, in 2018 they introduced their regional awards to recognise businesses that are extremely successful and hard working on a local level. Judges consider whether the individual or business is providing the best product/ service in their particular sector or industry this is primarily determined by the quality, efficiency and delivery of the product/service provided. Decisions are made based on service excellence, industry recognition, employee satisfaction, marketing & branding, ethical practice and of course customer feedback.
Article featured in Corporate Livewire North East England Prestige Awards 2020/2021 Magazine
"Established in 2015, Studio Botez is a design-led software company, focusing on building digital products and services for the internet. They have developed and maintain their own proprietary cloud-based platform called Lounge75, which enables digital content to be created and delivered on multiple platforms including web, iOS, Android, social media, and a selection of third-party services, using a single interface. The software was used to create Studio Botez's very own digital services, including Mini Markets, an ecommerce platform for independent businesses and creative entrepreneurs, and Appy Hive, a hub for mobile app creation.
The judges commend Studio Botez for creating software that encourages people to connect and build online and real-life communities. By doing so, not only have they given businesses the opportunity to establish their place in local communities and gain higher footfall, they are simultaneously simplifying people's lives by enabling them to access information easily. Their successful website, Visit Great Ayton, which is complemented by their mobile app Discover Great Ayton, and an online community marketplace, is an excellent example of this as it allows tourists and locals to easily find information about the town, whilst also promoting businesses within it".