Published on 28 Mar 2022 | Topics: #GreatAytonNews
The Yatton House Community Garden Project is an exciting new initiative taking shape on an allotment opposite Yatton House in Great Ayton.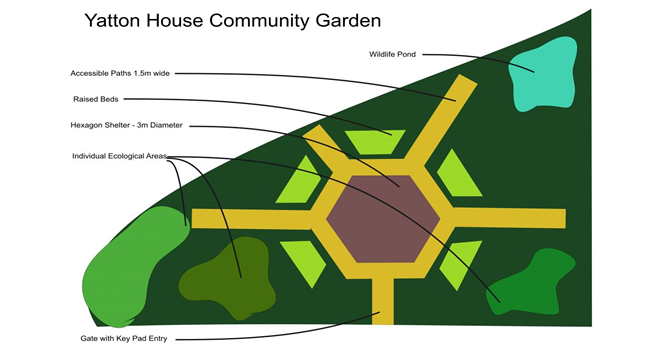 The garden will be managed by Yatton House and its Members and is supported by Brighten Up Great Ayton, Great Ayton Parish Council and representatives of local Rotary Club groups and with thanks to the Margaret Mawston Environmental Trust and Rotary groups the project can start being developed.
The concept behind developing the garden includes the following:
• Provide a safe and accessible community garden and space for groups and individuals.
• Provide a space which is fully inclusive by ensuring accessibility and safety are central to the design.
• Bring different sections of the community together.
• Promote awareness of mental health and loneliness.
• Champion environmental impact and climate change through wildlife, biodiversity, and the growing of sustainable organic fresh fruit and vegetables.
• Deliver educational experiences.
Interested in volunteering?
Fundamental work will start with the meeting of a working group and include tidying and clearing of the area.
Date: Tuesday, 5th April
Time: 10.00am - 12.00pm and 1.00 - 3.00pm
A safety talk will be provided at each session and refreshments will be available.
Equipment: Please make sure you wear strong and suitable footwear and bring along your gardening gloves.
If you are interested in joining the working party or becoming a regular volunteer, please register your interest on the Yatton House 'Neighbourly Page'.
Local Community Groups and Organisations
If your local Community Group, School, or Organisation would like to be involved or offer support please get in-touch with Chris at Yatton House.
All information and images courtesy and by the permission of Yatton House Society.