Great Ayton Tennis Club

Garth Field, Mill Terrace, Great Ayton TS9 6PF
Are you looking to join a new and thriving club? At Great Ayton Tennis Club you can enjoy all inclusive, year round tennis on LED flood lit and "Poraflex" courts alongside benefitting from a fantastic coaching team, free lessons for new members and a wide range of social & competitive activities in scenic Great Ayton, a gateway to the North Yorkshire Moors National Park.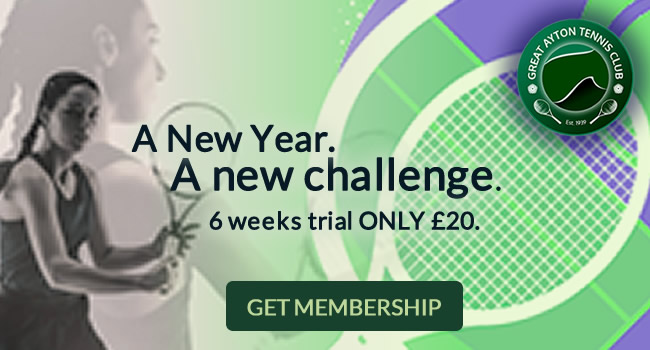 Club Membership Fees for 2022
Adult: £99
Family: £215 - Includes up to two adults and two children (students or juniors). Additional family members pay at normal rate.
Guardian: £20 - Only playing with one junior.
Walking/Wheelchair Tennis: £30 - playing between 10am & 3pm on weekdays
Walking/Wheelchair Tennis: £50- no restrictions (days or hours)
Students: £45 - (Year 12 and above in full time education, no upper age limit).
Mature Students (over 24): £45 - proof of course acceptance required.
Juniors (Secondary): £35- School Years 7 to 11 (age 11 to 15)
Juniors (Primary): £20 - School Years 3 to 6 (age 8 to 10)
Juniors (Infants): Free - School Year 2 and younger (up to age 7)
Trial: £20 For 6 weeks. Only total beginners wanting to have a try at playing
tennis. Amount refunded if membership later taken out at the appropriate rate.
Rates for individual special cases are at the discretion of the Treasurer/Membership Secretary. Apply through 'Contacts page' on website.
Membership expires on 31st December of the year it was taken out.
New members charged pro rata for the number of months left in the year from when they join.
'Juniors' ages taken from the school year they are in on the 1st January 2022.
New members given a voucher for coaching (introduction to the Club) to the value of one third of the subs they paid. (Max. £30).
Did you know that you can buy eGift vouchers with your own personalised message towards Great Ayton Tennis Club Membership?
Serving in Great Ayton for over 80 years!
Great Ayton Tennis Club is a small, friendly club that strives to meet the playing needs of all members from juniors to seniors and from beginners to potential tournament winners.
Across the River Leven from Low Green and within the Conservation Area of Great Ayton the Club occupies historic land known as Garth Field, also Mill Garth. The Club is surrounded by the stunning views of Roseberry Topping and Captain Cook's Monument. The Buck pub and restaurant is only a few steps away which proves to be a great location for players and families to relax after a good hit on court and with the Low Green just opposite being a perfect place for a picnic for all.
We host regular events from tournaments for all ages and abilities to special family open days, barbeques to wine and cheese nights.
Interested in finding out more then checkout our website.
Find us on the map in Great Ayton