Great Ayton Tennis Club

Garth Field, Mill Terrace, Great Ayton TS9 6PF
New for Autumn 2021 !
We're excited to introduce level 4 qualified coach, Jennifer Barron, to the club! Jennifer will be offering all sorts of new and exciting activities in 2021 including new beginner and intermediate adult coaching, which started this April.
LTA Youth Start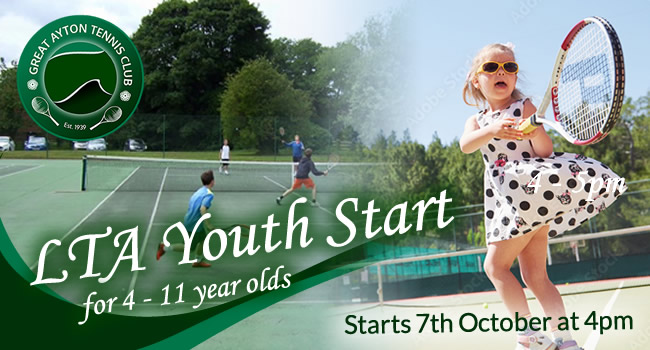 LTA Youth Start is a programme created for children aged 4 - 11 years old who have either never played tennis or have little experience with the sport. New tennis lessons will start on Thursday, 7th October between 4 and 5pm and run every Thursday until 11th November.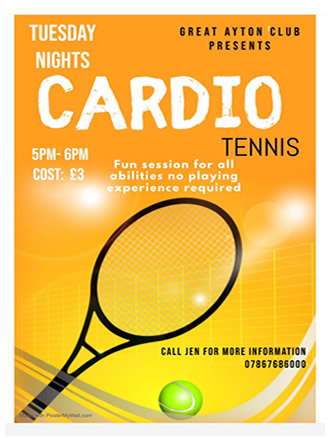 Check out our fantastic rates and sign-up for membership today!
Serving in Great Ayton for over 80 years!
Great Ayton Tennis Club is a small, friendly club that strives to meet the playing needs of all members from juniors to seniors and from beginners to potential tournament winners.
We welcome visitors to the area and courts are available to book online throughout the year from ONLY £10 per hour. We now have floodlit courts making tennis play really a year round sport!
Please note that courts are currently unavailable for visitors to book currently - we will keep you informed when courts reopen for casual, non-member bookings.
Across the River Leven from Low Green and within the Conservation Area of Great Ayton the Club occupies historic land known as Garth Field, also Mill Garth. The Club is surrounded by the stunning views of Roseberry Topping and Captain Cook's Monument. The Buck pub and restaurant is only a few steps away which proves to be a great location for players and families to relax after a good hit on court and with the Low Green just opposite being a perfect place for a picnic for all.
We host regular events from tournaments for all ages and abilities to special family open days, barbeques to wine and cheese nights.
Interested in finding out more then checkout our website.
Find us on the map in Great Ayton