World of James Herriot

23 Kirkgate, Thirsk, North Yorkshire, YO7 1PL
Herriot Country in North Yorkshire is the home of Alf Wight OBE, who became the world's most famous veterinary surgeon as James Herriot when his fictional stories of life as a country vet based on his own experiences sold in their millions around the world.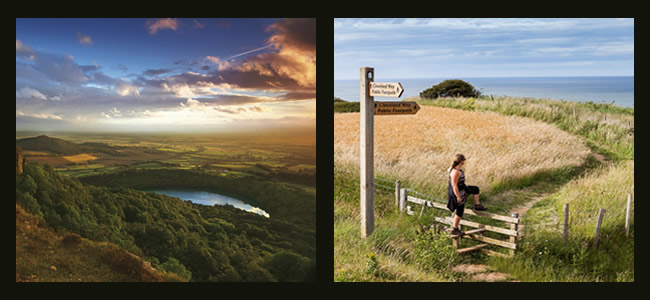 Images left to right: Stunning views looking across Sutton Bank, North Yorkshire Moors National Park and the Cleveland Way National Trail
Herriot Country includes two National Parks (North Yorkshire Moors and Yorkshire Dales), two designated Areas of Natural Beauty, numerous attractive market towns and satellite villages like Great Ayton and includes the locations where several films and television series were made. The BBC TV series, All Creatures Great and Small, was compulsive Sunday night viewing that ran to 90 episodes from 1978 to 1990. A remake of the series by Channel 5 TV began in Autumn 2020 to renewed acclaim and a new young audience.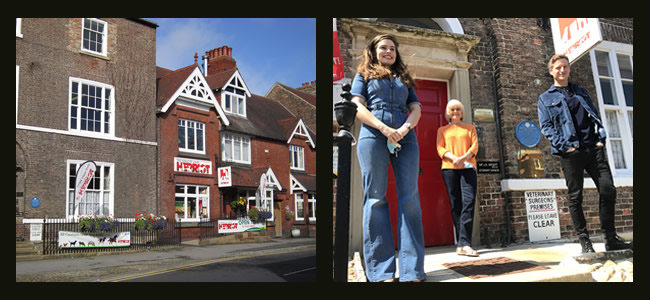 Images left to right: Exterior of the World of James Herriot and the new series cast members Rachel Shenton (L), Rosie Page (Centre, Alf Wight's, James Herriot's, real daughter) and Nicholas Ralph (R)

The North Yorkshire countryside shown in the filming of these series attracts visitors from all over the world as they discover the World of James Herriot in Thirsk (renamed Darrowby in the stories) which is the original home of the vet and author. It helps everyone to learn about his stories, real and fictional, to see artefacts of his profession at a time before anti-biotics, the cars, the props and sets from the movies and TV series' plus interactive exhibits for children and adults alike that help to make the visit an enjoyable and educational experience. See contact details and opening times for further information.
Herriot Country is endowed with some of the finest scenery in the country, spreading from the East on the North Yorkshire Coast, through the North York Moors National Park, the Yorkshire Dales National Park, Cleveland Lowlands, Hambleton Hills, the Vale of Mowbray, Vale of York, Howardian Hills Area of National Beauty, Richmondshire, Harrogate and York, and to the West, in Nidderdale, another Area of National Beauty, Grassington, where the Channel 5 TV series remodelled it to become the Herriot town of Darrowby.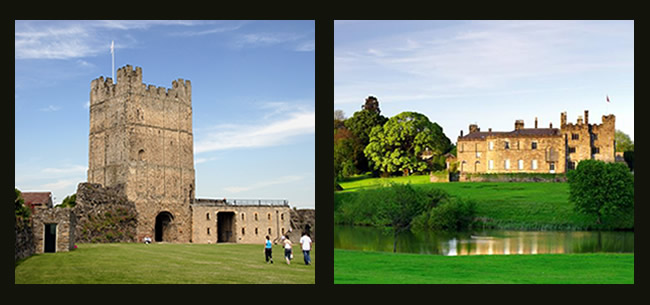 Images left to right: Richmond Castle, Richmond and Ripley Castle, Ripley, Harrogate
It is fabulous walking country, has so many attractive rural locations, heritage visitor attractions, outdoor activity centres, original real ale pubs, popular and high-end restaurants, quality hotels and B&B's, several heritage steam railways, stylish self-catering accommodation, hundreds of independent retailers and artisan food and drink producers.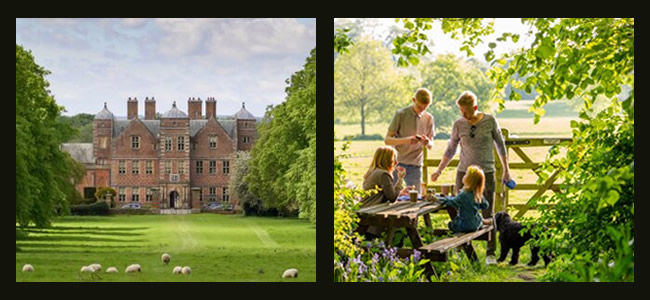 Images left and right: Kiplin Hall, Richmond, in North Yorkshire
Herriot Country has something for everyone.
Copy and images courtesy of John Gallery at Herriot Country (All images subject to copyright of Herriot Country or 3rd party contributors).
Additional photo credits:
Walker on Cleveland Way National Trail - Ebor Images
Walking trails at Sutton Bank - Chris J Parker
For further information about accommodation, places to eat and visit in and around Great Ayton explore Visit Great Ayton. For more information about what to do and where to eat and stay in Herriot Country check out their website
Find us on the map in Great Ayton