Published on 16 Nov 2020 | Topics: #GreatAytonNews
From a fairy village to wild flower meadow, Great Ayton developments are underway in the flood meadow and woods.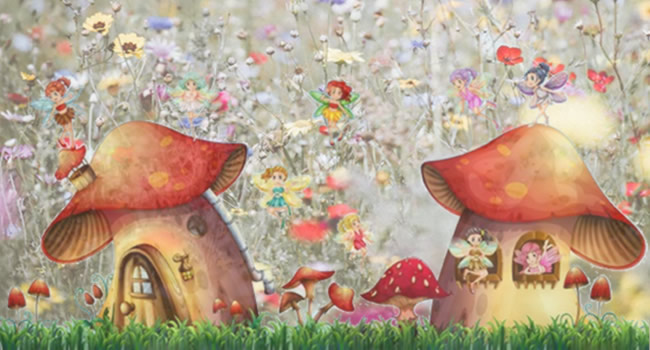 Fairy Dell - contributed by Keith Wilcox

A small project is soon to be underway in a corner of pine woodland adjacent to the junior football pitches at Great Ayton Cricket & Football Club (former Friends School sports fields). A community group called Accord Agreement & Support are to tidy a piece of land where the pine trees are located in the woodland above the grass meadow. If you stand on the path by the river and look across the meadow to your left, venture up the paths and you will come to the location of the fairy village. Soon you will see new families taking up residence in the pine area of woodland. The Mayor of the Fairies sent a message enquiring about a new residence, and this was agreed, to be Great Ayton, and we understand they will take up residence shortly. Our volunteer team of people will be preparing the site shortly, in preparation for a fairy village to be created. Keep an eye out and an ear open as to when the first fairies appear, we hope then that the community and residents of Great Ayton will venture to the area and help the fairies create their new village and add to the site, village hall, post office, shops and fairy houses so it becomes a truly magical place for everyone to enjoy!
Each fairy location (site plot) can only be 500mm sq and all buildings must be small in size for the fairies to live in.
Flood Plain Meadow - contributed by Councillor Angela Taylor and Caryn Loftus of Moor Sustainable
For many years used for the recreation of pupils of The Friend School the area was adapted to divert and hold flood waters from the river when in spate, therefore reducing the risk of flooding in the village, the area has now become a popular walk for many residents.
Following the development of a Pollinator Plan for Great Ayton in 2019, the field itself has recently been identified as "flood plain meadow" with a nationally rare plant community, due in some part to the lack of cultivation, fertilisers, weed killers, et c. over a period of many years.
Now plans are underway to protect and improve the area; already in-hand are maintenance and improvements to the footpaths, fences, bridge and flood conduits.
We have also sought advice from a local botanist who we hope to engage to guide us in the appropriate management of the area, removing pernicious weeds (Himalayan Balsam, thistles et c.), and adding other interesting and rare varieties of planting to extend the flowering season. Interpretation boards will hopefully allow us to share the area's history and inform the public of its special flora and fauna. It is also envisaged we may be able to run courses in hand scything and perhaps also in bee keeping to involve villagers in its upkeep.
Keith Wilcox and his willing band of helpers are working hard to remove brambles and undergrowth from the pine wood area, which will then be available for people, especially children, to transform into a Fairy Dell They will be able to place appropriately sized models of fairy homes, et c. (no plastics or glitter, et c please). We hope this will become a focal point for the children of the village, encouraging then to visit regularly and engage with the wonders of nature we are so lucky to have on our doorstep.
Do watch out for further information and or get involved via the Brighten Up Great Ayton Group or The Parish Council.