Brighten Up Great Ayton
Improving Great Ayton for People and Wildlife.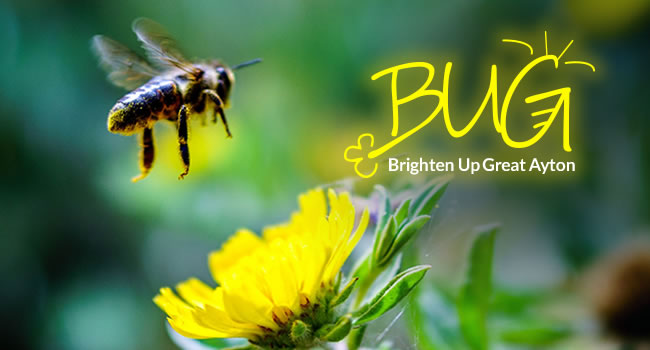 The Brighten Up Great Ayton group meets most Thursday afternoons, outside the Village Hall, at 2.00pm (weather permitting) and on other days when extra planting is undertaken. Depending on the work needed, we may go to work at the Cook Family Memorial Garden, Chapel Steps or Waterfall Park. See the sign on the railings to find out where we are.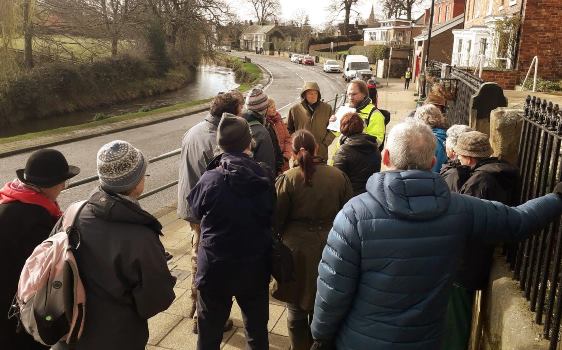 Planning for Pollinators walk with Botanist Martin Allen
We work with Great Ayton Parish Council to help realise the vision outlined in the village Plan for Pollinators produced following a guided walk through the village.
The work of the Friends of Great Ayton Station to create a wildlife friendly station area complements the work of the Brighten Up Great Ayton group within the village.
New volunteers always welcome.
For more information phone Angela Taylor on 01642 724401 or email Caryn Loftus on carynloftus@moorsustainable.org.uk
Improving Great Ayton for People and Wildlife
Following the work in Waterfall Park in Great Ayton in 2018, Moor Sustainable CIC worked with Great Ayton Parish Council and the Brighten Up Great Ayton group to improve planting in some of the public areas of the village to make it more attractive to people and wildlife.
The first phase ran from January – June 2019, funded by North Yorkshire County Council's Stronger Communities Programme with support from Great Ayton Parish Council and Brighten Up Great Ayton group, with:
A launch walk around the village, leading to a plan for the village identifying a planting scheme which is resilient to climate change, including where and what to plant to benefit pollinators and look attractive, that is easy to maintain for a group of volunteers;
Training for those involved in the Brighten Up Great Ayton group and those that offered to help maintain Waterfall Park related to the role of bees in pollinating and how to maintain public planting;
Equipment for volunteers;
Bulbs, plants and seeds that are attractive to pollinators;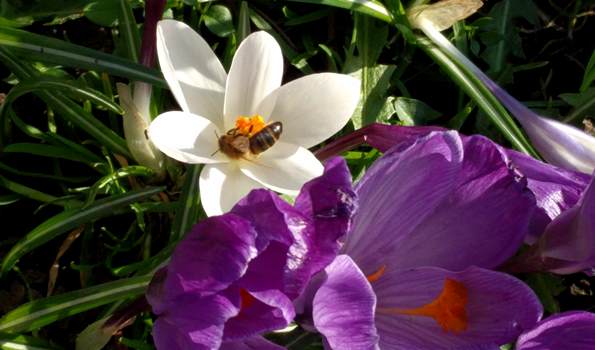 As a result:
Wildflower seeds provided by Grow Wild have been sown in the Village Hall garden, up the side of Chapel Steps and in Waterfall Park.
The Brighten Up Great Ayton group helped plant the new Cook Family Memorial garden.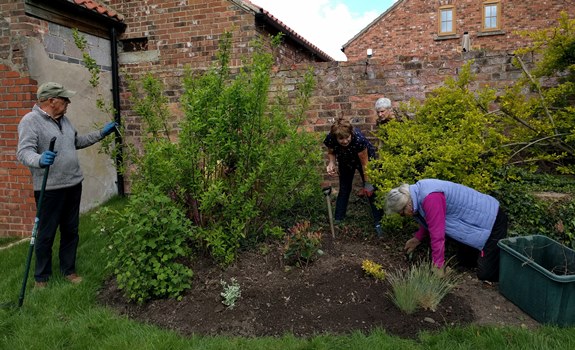 Cook Cottage Memorial Garden Planting
A trial area of grass in the cemetery has been left uncut so that already existing wildflowers (oxeye daisy, common sorrel, bulbous buttercup, cat's-ear) can flower and their seed be collected to use elsewhere in the village. Leaving the grass longer and letting it flower will enable identification of what grass species are growing here.
Broadacres Housing Association has donated funds for trees and plants for the small grass area at the end of Beech Close. Staff volunteers helped plant five fruit trees and a 25-metre wildflower edge. The fruit will be available for anyone to pick and any excess apples will be turned into apple juice by Moor Sustainable as part of their community apple pressing Broadacres will help maintain the new mini-orchard.
A grant has been given, from North Yorkshire County Council's Locality Fund, to provide seating and planting for a community garden at the village hall which will be maintained by the Brighten Up Great Ayton group.
Phase 2 is now under way with additional planting up the side of Chapel Steps and also in the grounds at the back of the Discovery Centre.
Moor Sustainable CIC has received a National Lottery Heritage Fund grant for an exciting Bug Trail project, creating a rubbings trail along the High Street in Great Ayton. An activity booklet and leaflet will be available from the Tourist Information section of The Discovery Centre and an augmented reality app will be available to download from the Visit Great Ayton website when restrictions due to the coronavirus epidemic are lifted. Made possible by money raised by National Lottery players, the project focuses on the story of Great Ayton's High Street through the eyes of pollinators from the earliest records to planting for the future.
Funding is still being sought for bee, bird and bat boxes and to improve access to the riverside at Low Green; and improve the water quality in the River Leven.
Images and information provided by Caryn Loftus of Brighten Up Great Ayton and Moor Sustainable.