Published on 02 Dec 2016 | Topics: #VisitGreatAyton
Join in celebration of a successful campaign from the Great Ayton Conservative Club to purchase a new defibrillator for the village...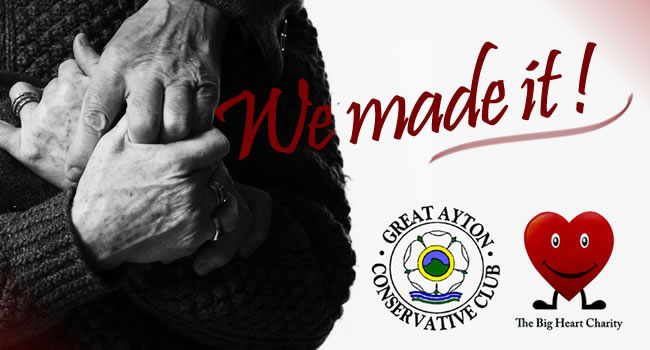 Great Ayton Conservative Club have successfully achieved their appeal total of £2,000.00 for a defibrillator to be located at the club on the Low Green in Great Ayton.
The defibrillator will be the second to be installed in Great Ayton, the first was installed at Great Ayton Discovery Centre situated at the High Green, and has proved to be a much needed, life saving piece of equipment.
The Conservative Club started their appeal mid-summer 2016, with support from the Big Heart Charity, and held two main fundraising events, a Quiz Night on 9th October which saw the club raising £500.00 towards their appeal and a 'Horse Racing' Evening on 20th November which saw the appeal total of £2,000.00 achieved combined with generosity from the public and local businesses.
The Conservative Club approached our team at Visit Great Ayton and the Great Ayton Business Forum asking for assistance with their initiative. We responded by promoting their event on our website and through social media platforms, Facebook and Twitter. The Business Forum and all it's local business attendees assisted greatly by providing monetary donations and prizes for the Club's defibrillator fundraising events.
Congratulations to Ernie Taylor and the team at the Great Ayton Conservative Club with such a great and speedily achieved initiative.
A few words from Ernie Taylor:
"I am delighted to inform you that following our RACE NIGHT on Sunday 20th November we have achieved our target for the appeal. Thank you for all your help it is greatly appreciated.
Could I ask you if you would thank the members of the business forum on our behalf for all for their help and the many others who have assisted.
We hope to have the defibrillator unit installed before the end on the year.
Thanks again
Ernie Taylor - on behalf of the Conservative Club"
Written by Sarah Botez of Visit Great Ayton