Published on 28 Jun 2017 | Topics: #news
After a momentous year, Visit Great Ayton celebrate being one year old!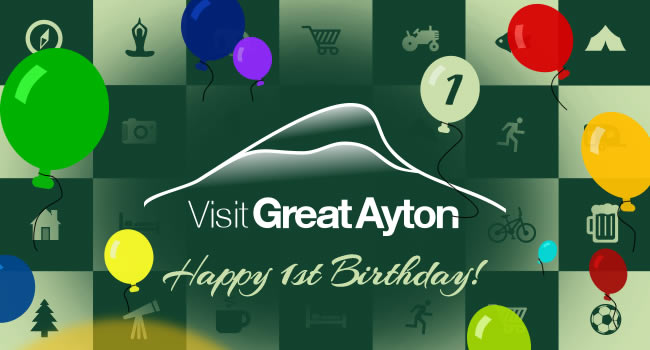 It's been an amazing year watching our product growing from strength to strength supporting the local community, businesses and tourism.
Visit Great Ayton is a digital product designed, developed and owned by software company Studio Botez Ltd who are based in Great Ayton. We identified a niche area which required some serious promotion via online presence and decided to develop this concept as our first, pilot digital product. And, here we are - one year old!
So, what have we achieved in our first year?
We were so pleased that our product took-off so quickly and for it to become as popular as it has proved with visitors and locals alike, providing a source of information for tourists whilst supporting the local community by promoting events and inspirational news articles from local residents. We feature dedicated profile pages for community and not-for-profit groups in Great Ayton, free-of-charge, with aim to highlight the great things these groups do to help the people and the area they live in. We support the local Tourist Information Centre by directing visitors to them for expert and more detailed advice, giving them more online presence in this age of technology where most people search for things on their mobile phones and tablets.
Supporting the community
We encourage more organisations to come forward as we would like to feature as many as possible to really bring together this sense of community spirit. We will be adding Leven Sword to our community profile pages very shortly. Ayton Sword are Great Ayton's very own sword dancing group. We have an aim to release a dedicated community sub-product, to be expected during 2017.
Supporting local businesses
Running on a par with this side of the product we also developed a hub for local businesses acting as an online marketing and promotional tool for them. We aim to list all local businesses by way of our Essential Membership tier which details basic information. We also feature a Premium Membership tier whereby businesses receive their very own dedicated profile page with a more detailed biography and relevant adverts. We promote our premium members on all our social media channels (Facebook, Twitter and Apple News) weekly and they can even sell select products through their profile page at a snippet of the charge they would face by developing a fully fledged eCommerce website. Joplins Restaurant have taken advantage of selling dining vouchers through their profile page and soon Sharman Wines will be selling wine hampers through their page too. We look forward to welcoming Itzamna's Cocoa shortly who will be selling his artisan chocolates, launching in July.
"I have been using Visit Great Ayton to help promote my business here in Great Ayton. We email our offers over monthly, then the offers are added to our Premium Member profile page on Visit Great Ayton and pushed through social media. I would definitley recommend this service to other local businesses. I hope visitgreatayton.com becomes the hub for the village" - Amelia Herbert - Watkins-Wright Hairdressing & Beauty.
We are excited to announce that we will shortly be launching a sub-product of VisitGreatAyton.com called Visit Great Ayton Marketplace which will be dedicated to local businesses to sell their products online by subscribing to Visit Great Ayton Premium Membership. There will also be an option which will allow any event organiser to sell tickets online, all they will need to do is register their event and details and away they go - all at a fraction of the price of Eventbrite. Free tickets can be sold at no fee and for all tickets incurring a fee we will donate 1% to a local charity.
We hope our Visit Great Ayton Marketplace will interest and encourage more Great Ayton businesses to join our Premium Membership by offering them an additional method of selling their products whilst we promote their business and their products online through VisitGreatAyton.com and social media.
Don't forget our 'Discover Great Ayton' mobile app available on all Android and iOS devices available for download now!
We are always on the look-out for local inspirational news stories which we will include in our monthly eNewsletter, on our website and will be promoted through our social media channels. please do get in-touch !
Visit Great Ayton would love to thank everyone for their support over the year, from all our visitors and newsletter subscribers, for your valuable feedback, to providing news articles and tourism content, to all our businesses and community groups and to valuble support from Hambleton District Council, Great Ayton Parish Council and Great Ayton Business Forum. Thank you everyone, we are very grateful!