Published on 07 Jul 2017 | Topics: #VisitGreatAyton
Such a great result to see five Great Ayton businesses/individuals nominated for the Hambleton Business Awards 2017.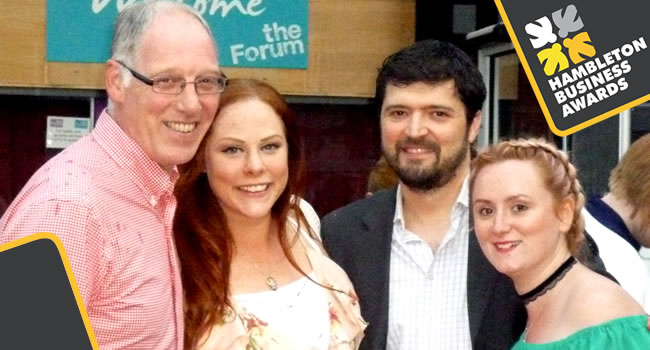 Picture: l-r - Richard Thompson of Thompson's Hardware, Sarah Botez of Studio Botez (Visit Great Ayton), Dorin Botez of Studio Botez (Visit Great Ayton) and Amelia Herbert of Watkins-Wright Hairdressing & Beauty and Great Ayton Chairperson of Great Ayton Business Forum.
Congratulations to all our nominees at the Hambleton Business Awards 2017 last night at Northallerton Forum. Great Ayton businesses and individuals received five nominations which over doubled from the awards in 2016!
Thompsons Hardware were nominated for the Legacy category and Great Ayton Business Forum for the Best Networking Group. Both businesses were shortlisted to the final three in each category. Stamps Coffee Shop were nominated for Best Independent Retailer and Joplins Restaurant were nominated for Best Customer Service. Although there were no wins this year the feeling was one of appreciation to be nominated, showing that each business is highly valued within the community.
Claire Robinson from Robinsons Equi Teach in Great Ayton was given a highly commended award in the Engaging Young Minds category for the work she does to support young people at Stokesley School, an absolutely fantastic cause and a person we're so very proud of in Great Ayton.
The evening was introduced by Cllr Peter Wilkinson, Deputy Leader of Hambleton District Council with awards announced by a very amusing Antony Collins with closing remarks from Cllr Mark Robson, Leader of Hambleton District Council.
Awards went to:
• Apprenticeship Champion - Rebecca Salmon Owens from Hollins Stables in East Rounton for an apprentice funded through the district council, who has developed the most in the role and demonstrated great commitment to the business.

• Engaging Young Minds - Walter Thompson Contractors of Northallerton for the significant investment of time supporting young people in the construction industry.

• Hambleton Champion - Rachael Roberts from Wensleydale Railway who has brought new business opportunities to the railway and promoted the district.

• Innovation - Inspired Pet Products, a pet food manufacturer from Dalton, for their marketing achievements through "Doggle-box" and demonstrating most innovation in environmental performance.

• Best Customer Service - Blossom Home Care from Northallerton for their work in making families feel they are getting the best service possible.

• Independent Retailer of the Year - Yorks of Thirsk tea rooms for their support and dedication to growing the numbers of visitors to Thirsk and the surrounding area.

• Networking Group – First Monday business network in Stokesley for their achievements supporting and advising members.

• Legacy Award - The Legacy award was received by joint winners, Charles Barker of Barkers Northallerton for his work supporting the economy of the town for the future, and Mark and Sue Dicken, owners of Terry Dicken Business Park in Stokesley, for the significant achievements made supporting other small businesses.
Article written by Sarah Botez