Published on 28 Nov 2019 | Topics: #GreatAytonNews
Follow the Snowman Trail around Great Ayton and be in the chance to win a fantastic Christmas hamper!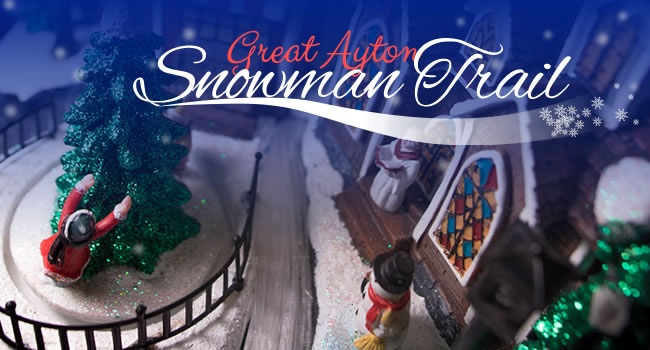 Back this year celebrating Great Ayton Christmas Fayre, the wonderful opportunity to win a wonderful goody hamper filled with amazing gifts and vouchers from local businesses and have some jolly good family fun at the same time!
The Snowman Trail Competition involves twenty-two local High Street businesses displaying a snowman in their shop window each with a unique letter attached. When all letters are found then a Christmas message can be made after deciphering the letters.
Entry forms can be picked up in Great Ayton Discovery Centre between 10.30am and 5.00pm, Tuesday to Saturday.
Only 50p!
Closing date for entry is Saturday 7th December 2019.
The winner is to be announced on Friday 13th December.
Why not pop into the Discovery Centre on Christmas Fayre Day, they are open for teas and coffees and have arranged for Anita Aslin to play the harp, her CD's will be available to purchase. They also have some impressive decorations both inside and outside including a giant Christmas tree made from books and a huge knitted snowman. There will be a craft activity for children too.