Published on 17 May 2018 | Topics: #GreatAytonNews
First night a great success for Great Ayton Amateur Dramatic Society's performance of 'Agatha Crusty and the Health Spa Murders'.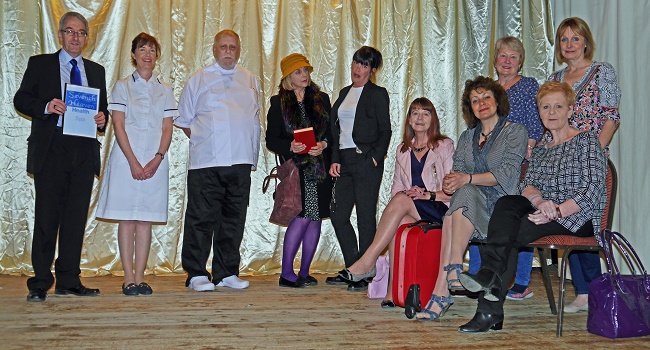 From start to finish Great Ayton Dramatic Society brought tears to the eyes (of laughter) with their laugh-a-minute comedy production written by Derek Webb.
Agatha Crusty (the famous crime-writing novelist), played by Lynne Stones, arrives at Seventh Heaven Health Spa, owned by Andy Eden (Stephen Jones) and assisted by Abigail Giggleswick (Oonagh Murphy), for a little relaxation and writing time only to become involved in a series of dramatic murders involving mud, salt and cyanide!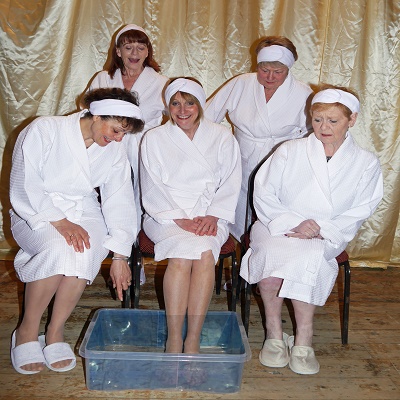 Image from left to right: Michele Hopley, Avril McCall, Diane Ogleby, Rosemary Short and Denise Skinn
A group of excitable ladies arrive for a weekend of spa enjoyment after achieving the highest sales in their team at the Fashion House they work in. But all is not as it seems as the comical story unfolds. The ladies all enjoy a wealth of treatments including a very special massage from Russion spa worker Dmitri Popov, very convincingly played by Joe Page-Gibson. Great performances from the ladies, including Rosemary Short as Geri Myers, Denise Skinn as Lydia Stokes-Ramsbottom, Michele Hopley as Christina Taylor, Avril McCall as Julia, and newcomer Diane Ogleby as Jocelyn Powers. The relationships between all were very well portrayed and interraction very natural.
As the first murder is committed, the police are called, much to the dismay of spa owner Andy, and roll-on Deputy Inspector Sally Aster, a ditsy inspector who cannot pronounce her r's. An incredibly hilarious character played by Rachel Roberts.
Of course, the show cannot go on without the dedicated backstage team, headed by Stage Manager Dave White.
The Christ Church Hall was full with eager theatre-goers and gaffaws of laughter filled the air throughout the entire play.
To get your tickets, contact the box office on 01642 722096, pop into Thompson's Hardware, or just turn-up on the door armed with a bottle of your choice! You will be promised a very enjoyable evening.
The play runs until Saturday, 19th May, starting at 7.30pm.