Great Ayton Dramatic Society
Great Ayton Dramatic Society, often shortened to GADS, has been entertaining the village since 1932 and we still perform in the same Hall. We are a friendly society who will endeavour to find and nurture the skills and talents you have.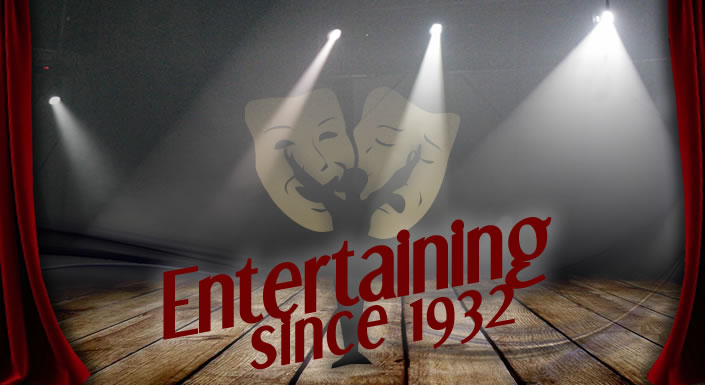 Upcoming Events in Autumn 2017
Winter production auditions - will be held on Wednesday 6th September from 7:30pm in the Village Hall. If you have seen one of our recent shows and thought that looks fun, please come along and join us. Production week will be January 17 - 20th 2018. If you are interested in a part but can't make the audition please let me know to ensure you are considered. We are also pleased to see anyone who would like to help backstage or front of house. Details of the play we are auditioning are below:
Love on the Beach
Synopsis of play
Tom Millard's world has been shattered by the unexpected death of his wife. Having now realized that life is short and precious, Tom makes a bucket list and starts working his way through it. His first aim is to take early retirement and live by the sea. His two married daughters are unhappy about their father's decision to live over a hundred miles away from them. They arrange for a wealthy divorcee friend called Brenda to visit Tom. The idea being that she will become romantically involved and persuade Tom to move into her house, which is close to his daughters. The only problem with this arrangement is that Tom detests Brenda. Continuing to work his way through the bucket list, Tom has hired the services of a mature escort lady for an evening's entertainment. By a twist of fate, the local female vicar calls round the night Tom is expecting his escort lady. Tom mistakes the vicar for his date. Brenda also makes an unwelcome visit that evening. Thereafter follows many twists and turns in this hilarious farcical comedy.
CAST IN ORDER OF APPEARANCE
TOM MILLARD About sixty-four. An intelligent, thoughtful person who is a romantic at heart. He is well groomed and looks good for his age. He is a private person who doesn't like socialising. His world has been shattered since the death of his wife.
LUCY RICHENS (Younger daughter of Tom) About forty. Well spoken and smartly dressed. She is slightly overweight. Married with two children. Fairly placid.
JADE THOMPSON (Older daughter of Tom) About forty-one. Speaks her mind. Good looking. Dresses in quirky clothes. Not at all happy that her dad has moved away from family and friends. Married with two children.
BRENDA HARRIS (Family friend) About fifty-six. Lives alone after her husband left her. Very wealthy. Likes the finer things in life. Verging on being a snob. Thinks the world revolves around her. Dominates conversation. Has a crush on Tom.
KEITH GROVES (Best friend of Tom) About fifty-five. Jack the lad. Has been married for twenty-seven years but does his own thing. A larger than life personality. Smart in appearance.
SARA JONES (Local vicar) About fifty-two. Spinster. Slim and attractive. Well dressed. A very saintly Christian who has dedicated her life to the church. A very likeable person.
ALICE BEALE (Cleaning lady) About seventy-six. Has many medical problems. Shabbily dressed and poorly groomed. Lives on her own since her husband walked out. Could have a walking stick. Suggestion — mispronounces words which are underlined in script
KIM ROSS (Escort lady) About forty six. Good looking and smart in appearance. Well educated. Enjoys her job. Single parent with twins.
Winter Events 2017
Christmas Craft Fair - Our annual Christmas craft fair will be held in Great Ayton Village Hall on Saturday 18th November from 10am to 3pm.
Christmas Quiz Night - will be held on Sunday 3rd December from 7:00pm in the Royal Oak, always a good fun evening with a pie and peas supper provide by Petch Butcher's.
We recently held our AGM to discuss the successes and what could be improved elements of our society over the last year. It was determined a very positive year with three great performances seeing a wonderful increase in audience.
We welcomed two new members to our committee, Steve and David Jones and Katy Eccles being the latest members to join GADS. It is great to see such a happy and bustling drama society again in Great Ayton.
We have also relaunched our play reading committee based on use of the internet rather than libraries, moving forward with the times, using companies such as Samuel French.
I would love to check out GADS & maybe join the team what shall I do?
Just email us at info@greataytondrama.org.uk or come along to one of our rehearsals or productions. We update information here and on our Facebook page https://www.facebook.com/GreatAytonDrama/ regularly, so you'll know where to find us!


I would like to audition?
If you see an advert for one of our plays always displayed here, on our Facebook page or on one of our posters found locally please do get in-touch or just turn-up on the night, you will be greatly welcomed but never feel you have to commit. Feel free to bring a friend along too if you prefer not to come on your own!
GADS have pulled it off again! Their latest production of 'Agatha Crusty and the Village Hall Murders' went down a storm!
"It was a laugh a minute comedy, who-dunnit scenario, full of wonderful play-on-words and a few double entrendres to boot!" - Visit Great Ayton - read full article here
We put on two shows a year, one in January and the other in May, covering a wide spectrum from panto to murder mysteries with the emphasis on comedy. We aim to provide great entertainment for our audiences and a good laugh - all brought to you by local people who have a lot of fun on the way.
Last Production
It's Springtime and time for the next show from Great Ayton Dramatic Society! This time a murder mystery; a pastiche on Agatha Christie but with a large injection of comedy. Along with our regular cast, we will be welcoming back some old friends. Seating will be a mix of both theatre and café style.
Agatha Crusty And The Village Hall Murders
by Derek Webb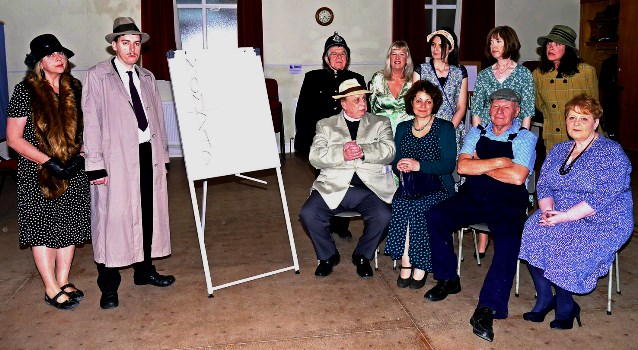 Agatha Crusty (pronounced Croosty) is a crime novelist. She's also pretty adept at solving crimes. And when her sister-in-law Alice invites her to spend a few days with her in the village of Chortelby, it's not long before she gets caught up in a series of murders which seem directed at members of the All Saints Village Hall committee.
From Toby, the Vicar, and Eleanor, Chair of the committee, to Harry Knott the caretaker and identical twins Olivia and Oliver Truscott-Pratt, there are plenty of suspects. And with an investigating officer as incompetent as D.I. Twigg, there are plenty of laughs as the murders begin to pile up.
But, while packed full of wit and very funny scenes, this is also a genuine murder mystery with an ingenious plot which will tax the little grey cells of the audience at the same time!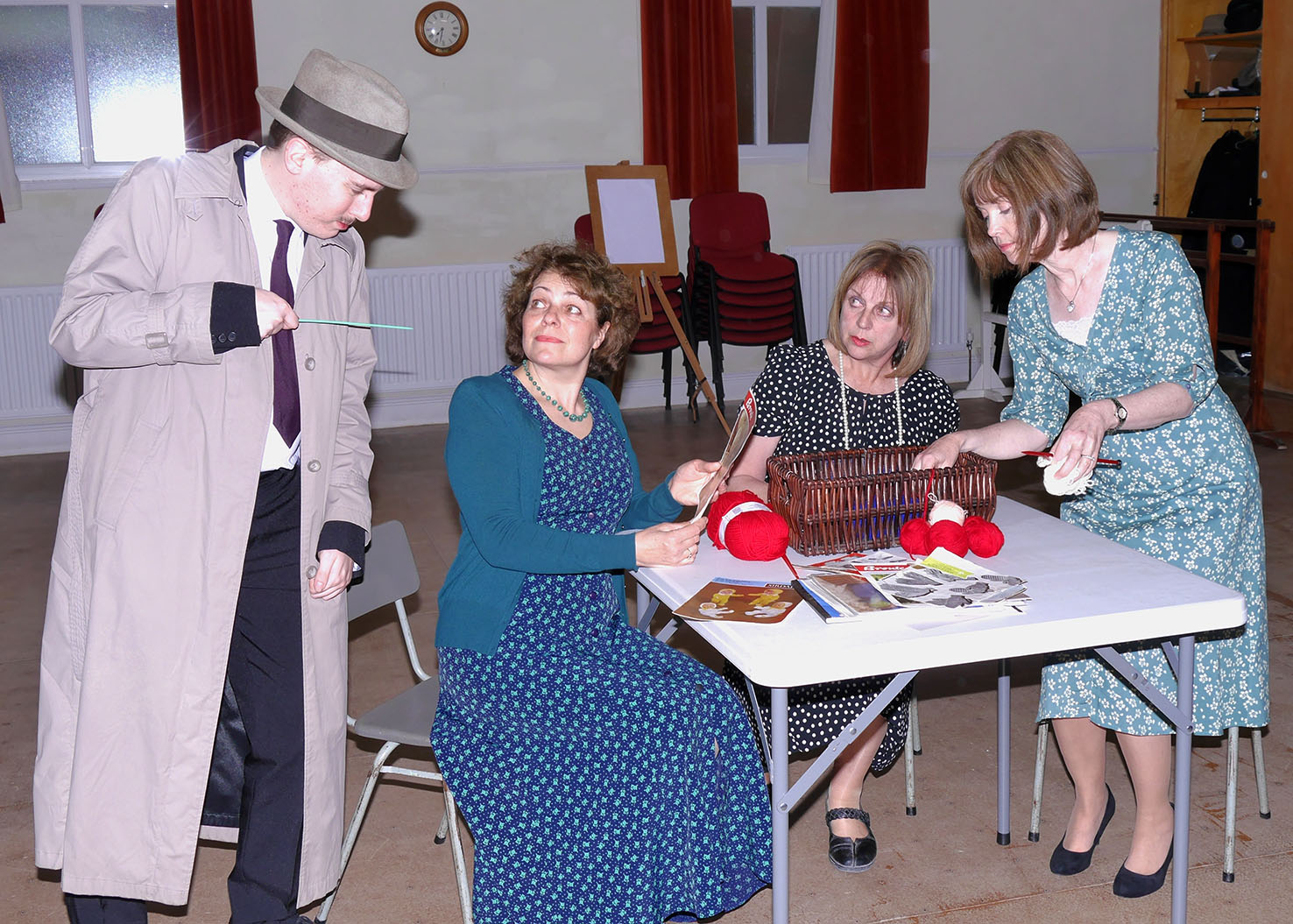 The Village Hall - our rehearsal home away from home!
Great Ayton Village Hall is situated on the raised section of the High Street overlooking the River Leven. The Hall was originally built as a primitive Wesleyan Methodist chapel in the 1862. In 1913 the hall was acquired by Sir John Pease Fry and given to the village under the stewardship of the Parish Council; over the years the hall was used for a variety of purposes including the local library. Since 1982 the hall has become the base for GADS and many other groups ranging from keep fit classes, meetings and dance classes to rehearsals and parties. You can contact the Village Hall to make bookings via Thelma Thompson on 01642 723509 or by emailing gads.dmw@gmail.com
The Village Hall Committee are currently looking to replace the floor in the Hall to be more suitable for the wide range of groups it accommodates - read more
The society has an active social side with events ranging from quiz nights to a fish & chips supper by the sea - something for everybody to enjoy!
See what shows we put on, find out the latest news and discover our fun-filled drama society! Like most drama groups we thrive on talented people of all ages - we are always pleased to welcome new members. Whatever your skills we have a place for you. If you are interested please email us at info@greataytondrama.org.uk