Published on 09 Feb 2018 | Topics: #news
Enjoy this warming article about the beautiful landscape and walks around Great Ayton, written by our contributor Emma Maitchell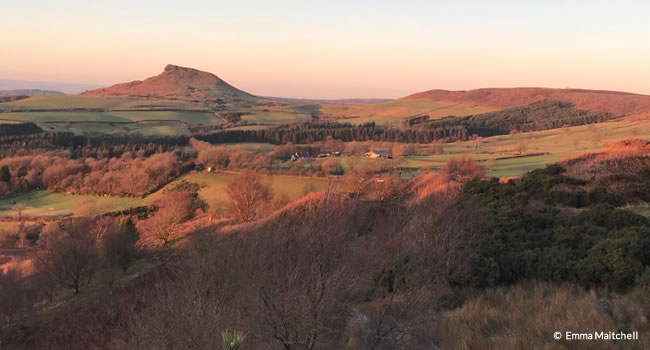 It's winter and it's pretty bleak most days as you know. So as soon as the sky is blue and a little warmth from the sun is on my skin, I will do what I can to get out and enjoy it. Even if it's not for a long period of time. I fancied a walk but one with a view, a view that will stay with me for some time and remind me of the natural beauty in the North East.
If you head towards Teesside from Darlington along the A66 you can see in the distant a majestic looking hill on the horizon. Now, this little gem really doesn't seem quite so little the closer you get, with its steep slopes and jagged cliff. We drive past the base as we head into Great Ayton and my girls admire it, towering over us. As it was getting in late in the afternoon and the sun was setting today we knew we couldn't walk too far before darkness would fall so my eldest was pleased to hear we wouldn't be walking to the summit today.
Today we headed towards Coate Moore Wood and Gribdale Gate carpark where there is ample parking, which is approximately two and a half miles east of Great Ayton and can be reached on foot, by cycle or by car along Station Road and Dikes Lane. The Gribdale Gate car park is at the point where the Cleveland Way crosses the road. The Cleveland way is a 109-mile long trail covering coastline and moorland, something I hope to do get the opportunity to do in the future.
Once we are parked up we make our way up the steep hill towards Captain Cook's Monument. As you walk south along the Cleveland Way after around 5 minutes you will get to a clearing on the right, if you turn here and head onto the heather filled moor you can then find a wooden bench. From this point, there are a few ways that can be followed these are visible walkways people have used to get across the moor to get to the edge. Click here to see Google maps view to get an idea of where you would turn as for the first visit it could be missed.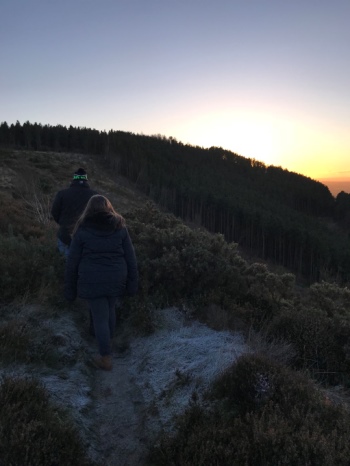 We then head across the moor to the edge, where we can then take in the wonderful view. With the winter sun fading the colours looked amazing and even my young daughters could appreciate the clear skies and were busy pointing out places they could see. It was a little muddy when we visited and still ground frost in places so we did take our time crossing the moor, but that just adds to the adventure for the girls whilst helping them with a range of skills such as problem-solving and balance.
As you can see from the photos it really is a beautiful spot and a great place to soak up the patchwork scenery across Teesside and of course the majestic Roseberry Topping.
I will be sharing our walk from the same car park around to Roseberry Topping and back that we did too, look out for the Blog.
(This article and photographs are provided by and copyright of Emma Maitchell of The Freckled Mum of 2).