Captain Cook's Monument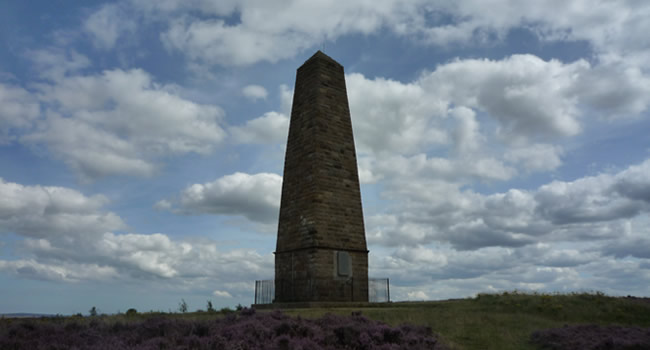 Captain Cook's Monument was erected in memory of the famous circumnavigator who lived in Great Ayton as a young boy. The monument was built in 1827 by Robert Campion, a banker from Whitby. Captain Cook's Monument is situated on Easby Moor, walkable distance from Great Ayton. You can take a longer walk from the centre of Great Ayton or drive up to Gribdale Gate and walk the rest of the way from this point.
The inscription on the monument reads:
"In memory of the celebrated circumnavigator Captain James Cook F.R.S. A man of nautical knowledge inferior to none, in zeal prudence and energy, superior to most. Regardless of danger he opened an intercourse with the Friendly Isles and other parts of the Southern Hemisphere. He was born at Marton Oct. 27th 1728 and massacred at Owythee Feb. 14th 1779 to the inexpressible grief of his countrymen. While the art of navigation shall be cultivated among men, whilst the spirit of enterprise, commerce and philanthropy shall animate the sons of Britain, while it shall be deemed the honour of a Christian Nation to spread civilisation and the blessings of the Christian faith among pagan and savage tribes, so long will the name of Captain Cook stand out amongst the most celebrated and most admired benefactors of the human race."
The site provides panoramic views along the curve of the Cleveland Hills, down into Great Ayton, across to Roseberry topping and back deep into the North Yorkshire Moors. There are infinite possibitities for walks including the monument, from the short stroll up the hill from Gribdale Gate and back again, to a deeper exploration, through Kildale, or across to Guisborough, or straight down the hill to Easby. The Cleveland Way long distance national trail includes the monument.
A shorter walk from Gribdale Gate
The walk from Gribdale Gate is suitable for families with younger children or those looking for a shorted amble in the Cleveland Way National Trail and North Yorkshire Moors National Park. There is a picnic area situated at the carpark at Gribdale Gate.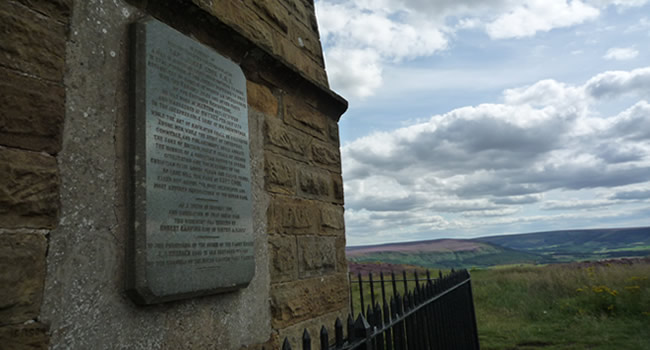 Distance: Approx 1.5 miles
Duration: Approx 1 hour
By car
Travel along Great Ayton High Street from the Stone Bridge with the River Leven in your right
You will find the High Green on your right after a couple moments drive. You will see a sign-post for Great Ayton station, turn right here and follow Station Road
At the mini-roundabout take the first exit and follow the road, past the train station and straight on at the crossroads on Dikes Lane
The road will bend to the left at Gribdale Terrace with a steep hill which then bends to the right. Keep going on this road, over the cattlegrid, and you will find Gribdale carpark
You will see a gate and a Forestry Commission sign for Gribdale Gate, enter through the gate and start your ascent
Follow the Forestry Commission track through the Cleveland Trail and up onto Easby Moor. Just keep to main track and you will soon see the tip of Captain Cook's Monument come into view
Take a moment to take in the breathtaking views, a perfect photo opportunity!
For your descent just simply take the same route down as on the way up
By train
When leaving the paltform take the steps up to the road immediately to your right
At the top of the steps turn right onto the road
Keep following the road straight on at the crossroads on Dikes Lane
After a little while the road will bend to the left at Gribdale Terrace with a steep hill which then bends to the right. Keep going on this road, over the cattlegrid, and you will find Gribdale carpark
You will see a gate and a Forestry Commission sign for Gribdale Gate, enter through the gate and start your ascent
Follow the Forestry Commission track through the Cleveland Trail and up onto Easby Moor. Just keep to main track and you will soon see the tip of Captain Cook's Monument come into view
Take a moment to take in the breathtaking views, a perfect photo opportunity!
For your descent just simply take the same route down as on the way up
Captain Cook's Monument on the map
Other activities in Great Ayton