Roseberry Topping
Roseberry Topping is up there with one of the many mysteries of Ancient England. Dating back to the middle and lower Jurassic periods, between 206 and 165 million years ago, and formed of sandstone, it really is a site to behold and a hill to climb!
Bronze-age discoveries were made on the slopes of the hill and are now located in Sheffield City Museum. Roseberry Topping was occupied during the Iron Age; walled enclosures and the remains of huts dating from the period are still visible in the hill's vicinity.
You can climb Roseberry Topping from Newton-under-Roseberry or from Great Ayton depending on your stamina! Stop for a drink and a bite to eat, in either village, before taking the ascent to Roseberry's summit and taking in the views across Yorkshire and the East Coast.
Roseberry Topping on the map
Other activities in Great Ayton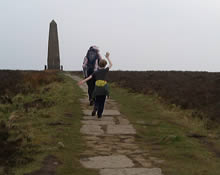 Captain Cook's Monument
Situated on Easby Moor, the monument was erected in memory of the famous circumnavigator Captain James Cook
Details