Published on 26 May 2021 | Topics: #VisitGreatAyton,#GreatAytonNews
Celebrating Great Ayton and it's amazing businesses duing English Tourism Week from 22nd to 31st May 2021.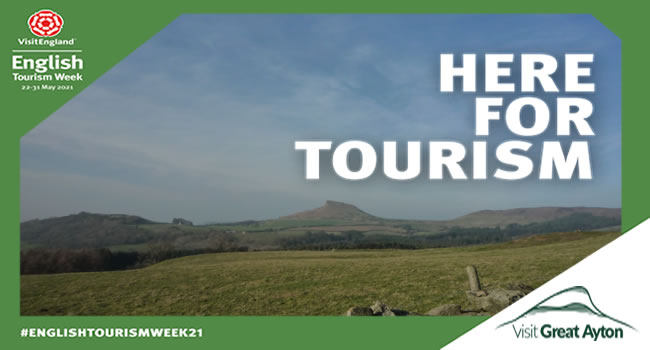 English Tourism Week is back, a campaign led by Visit England. The campaign has been designed to celebrate the "diverse, exciting and vibrant sector, and showcasing the quality, range and value of English tourism to stakeholders" - quote taken from Visit Britain website. Visit Great Ayton has partnered with Visit England for the English Tourism Week campaign to help celebrate and promote everything wonderful about Great Ayton.

"Making up 80% of the UK's visitor economy, English tourism in 2019 generated over £100 billion a year and supported 2.6 million jobs and is a major employer of school leavers and young people, as well as an incubator for entrepreneurs and innovation. It provides a spotlight to put tourism front of mind with key stakeholders and showcase the amazing work that goes on each and every day to build strong and resilient destinations. Local MPs will be supported with the information they need to understand just how important tourism is in their local area" - Visit Britain.

Following and incredibly difficult year for the majority of businesses during the Covid-19 pandemic, including the massive impact on those is the leisure, hospitality and tourism sectors, it is crucial that we all help to support the reopening of society and the tourism sector.
Great Ayton is a hugely popular tourist destination for domestic and international visitors. Many of our local businesses strongly depend on visitor footfall as does the local economy. With businesses being closed and travelling highly restricted since last March, it is wonderful to now see local, independent businesses returning to a sense of normality and travel restrictions easing gradually. Although international travel is still currently uncertain, the 'Great British Staycation' is being encouraged and we would like to assist in getting this message out there.
Great Ayton is buzzing with energy from enthusiastic independent business owners, creating a thriving and diverse High Street alongside beautiful, off-the-beaten-track attractions and retreats in and around the village suitable for visitors of all ages and preferences.
Set in idyllic, natural surroundings of the North Yorkshire Moors National Park and Cleveland Way National Trail, visitors are never short of activities to do. From walking up the famous Roseberry Topping and Captain Cook's Monument, cycling and horseriding to visiting the Captain Cook Schoolroom Museum and All Saints' 12th century church exploring the newly launched Great Ayton Bug Trail, a great interactive trail seeing the story of Great Ayton's High Street through the eyes of pollinators from the earliest records to planting for the future. Really good fun for families and bug enthusiasts alike! There are fantastic boutique shops, amazing restaurants, quirky cafés and bars and many wonderful varieties of accommodation to choose from, such as: hotels, camping and glamping, shepherd huts and wooden lodges.
So let's increase awareness together of the value and quality of the English tourism offer and why we should take a Great British Staycation in Great Ayton this year!
#EnglishTourismWeek21 #VisitGreatAyton @VisitEnglandBiz @VisitGreatAyton #responsibletravel #staycation
Article written by Sarah Botez - Product Manager at Visit Great Ayton