Great Ayton Business Forum
Great Ayton Business Forum was formed to build on the huge sense of community resulting from 2016's Tour de Yorkshire and to inspire and grow local business and economy. Quarterly networking evenings are held in Great Ayton alongside public events organised by the newly formed GABF Committee chaired by Amelia Herbert of Watkins-Wright Hairdressing and Beauty.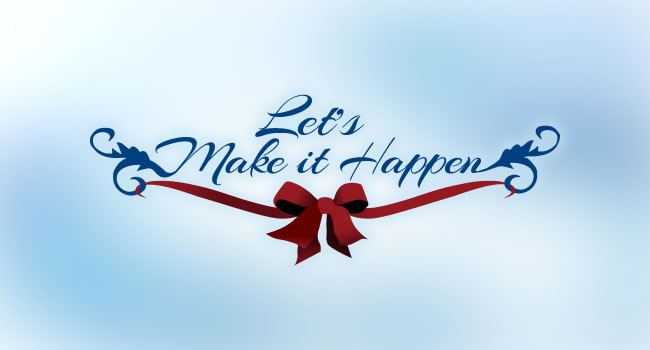 Great Ayton Christmas Fayre 2017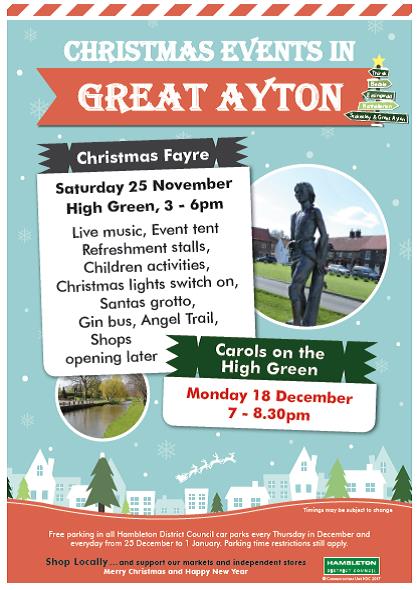 Promotional Poster Courtesy of Hambleton District Council
Stall holders (stalls will be allotted to Great Ayton, Ingleby Greenhow, Easby and Kildale businesses primarily then to people outside the area)

Marquees

Sponsorship

Generators

Activities for children

Businesses to open late on the day

Volunteers on the day
Email info@greataytonbusinessforum.org.uk for further details.
We're looking forward to seeing you there!
Latest Events
Big Fat Quiz - Sunday 1st October at the Royal Oak. See details
N.B. Networking Evenings - we have postponed all networking evenings until further notice.
About Great Ayton Business Forum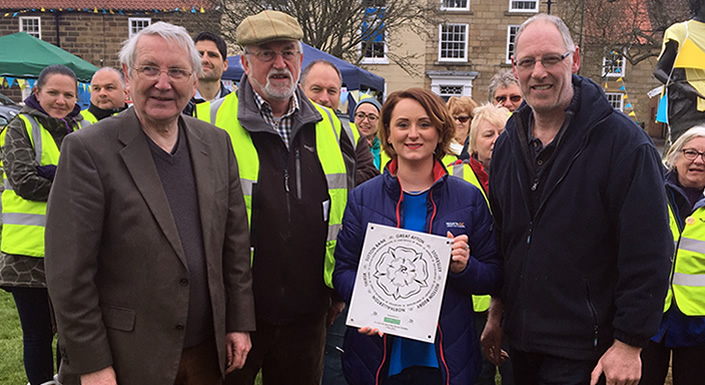 Photo L-R: Cllr Ron Kirk, Cllr John Fletcher, Amelia Herbert & Richard Thompson
Traders in Great Ayton worked together during April 2016 to ensure that visitors, who flocked there to watch the cyclists pass through for the Tour de Yorkshire, experienced the best that the village could offer.
The efforts were driven by Amelia Herbert, manager of Watkins-Wright Hairdressing & Beauty. Amelia set up a Business Forum in Great Ayton linking up with VisitGreatAyton.com, who act as promotional partner, and advice from Hambleton District Council, to ensure that Great Ayton continues to make the most of its assets and facilities.
But, while the 25-year-old has been able to keep shopkeepers up to date with progress and invites them to informal meetings at the Royal Oak, (see events for latest date) she is keen to attract other traders who are as yet unknown to the forum because they are sole traders such as decorators, work from home or are based at an address that is not obviously a business property.
"We had a great response from the business community when it was the Tour de Yorkshire and many of them benefitted from the event. We want to build on that success to ensure that Great Ayton continues to provide a great service to residents and visitors alike," Amelia explained. "There are lots of opportunities to showcase the village and bring in new customers - and we want to give every business, whatever its size or function, a chance to be part of these events.
I appreciate that not everyone will want to attend Forum meetings but may be happy to support it in other ways, such as helping at an event, offering some funding or donating prizes for raffles. We would welcome help in any form.
But the networking evenings are more about trying to attract business owners who we haven't had contact with before and giving them an opportunity to find out more and to network with other local traders."
Meet the Committee
Chairperson - Amelia Herbert of Watkins-Wright Hairdressing & Beauty

Treasurer - Henry Thompson of H.Thompson Services & Thompson's Timberworks

Secretary - Sarah Botez of Studio Botez Ltd & Visit Great Ayton

Alan Petch of Angrove Park

Mike Sharman of Sharman Wines

Richard Thompson of Thompson's Hardware

Lucy Easton of Easton Delights
Supporting the local economy and businesses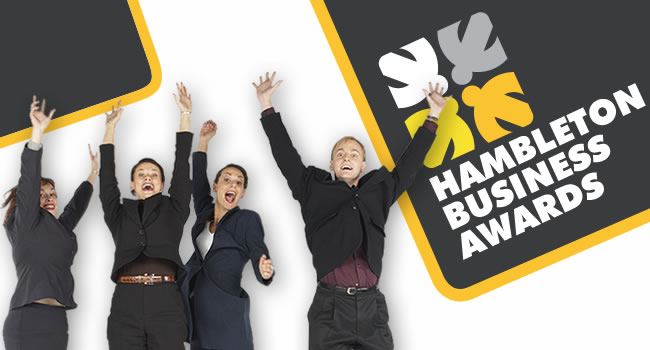 Image courtesy of Hambleton District Council and Visit Great Ayton
Find out more by reading the Visit Great Ayton news article here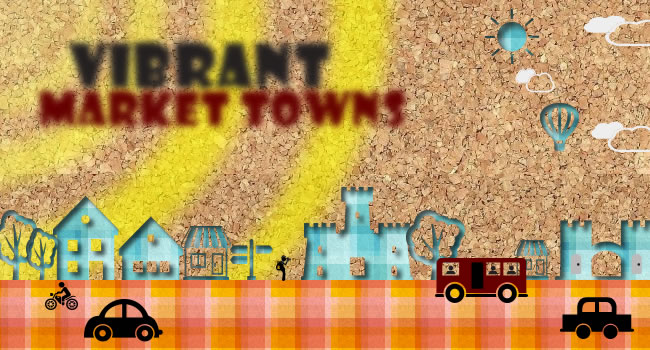 Image courtesy of Visit Great Ayton
Read the Visit Great Ayton news article here
Past Events
Fundraising Pub Quiz held at the Royal Oak Hotel Spring 2017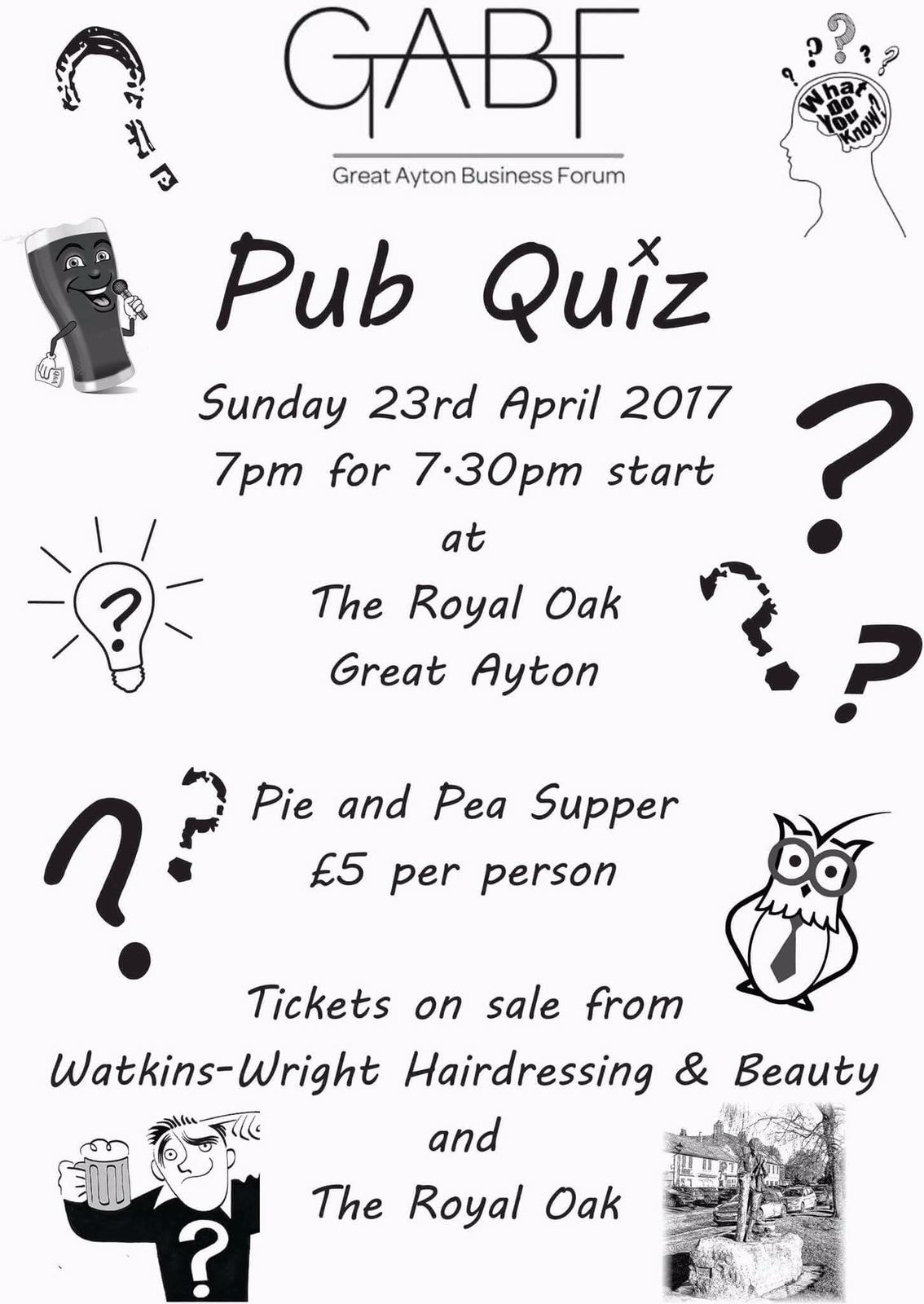 For further details follow this link to the pub quiz
Great Ayton Christmas 2016
Press Release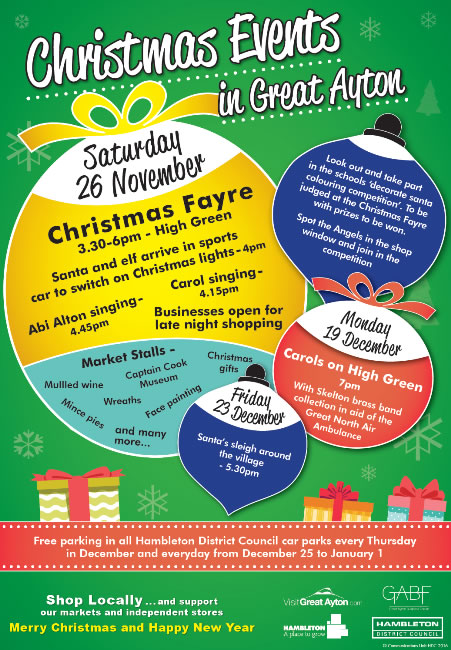 (Press Release poster courtesy of Hambleton District Council)
What an amazing turnout - the Great Ayton Christmas Fayre (organised by the Great Ayton Business Forum and promoted by Visit Great Ayton) has proven to be a great success and an event Great Ayton really needed. Pulling in approximately 1000 + visitors! A massive thanks must be extended to all who helped make the event a success. Greatest appreciation to Henry Thompson, Mikey, Alan Petch of Angrove Park Kath and Mark Phalps of School Farm and team, Ian and Jean McWilliam and their Great Ayton Scout leaders, Rohan Hill and her little helpers, Peter Greenwell and Waters Waste for putting up the tree and lights, Mike Sharman of Sharman Wines, Keith Wilcox and his team from Great Ayton Cricket Club, Richard Thompson from Thompson's Hardware, Great Ayton Parish Council, Angela Taylor, John Fletcher, Mark Dutton of Soundwaves PA, AV Dawson for supplying the trailer, Abi Alton, Angrove Singers, Shaun Brown of Twilight Zone for providing the childrens rides, Hambleton District Council (Julie Hutton) for their support and providing the press release poster, Debbie Calgie of the Darlington & Stockton Times, Great Ayton Swoprd Dancers, Roseberry Academy RAFT for entertaining the kids, Whinstone View for designing the Angel Trail poster and competition sheet, Big D's BBQ and Father Christmas for turning on the lights and announcing the winners of the school colouring competition. Thank you to all stall holders, businesses and individuals who helped and supported the Christmas Fayre and finally... thank you to everyone who attended the event, without you guys it wouldn't be worth it! Thank you also to The Royal Oak for hosting our networking evenings and supplying delicious snacks for our hungry traders!
Note from Amelia Herbert (Forum Chairperson) taken from Facebook:
"Well what can I say but WOW!!! I can't believe the turn out for tonight's Christmas Fayre. So much time, effort, stress & sleepless nights over it but it was well worth it. Really couldn't of done it with the fantastic team of people who helped today & supported me over the past few months (don't have them all on Facebook) Thank you so much.
Ps. Finally got to meet the MP Rishi Sunak after his very kind letter."
There were children's rides, festive refreshments and stalls, live music from Abi Alton (of X-Factor fame), carol singing from The Angrove Singers, sword-dancing and a visit from a special person who turned the Christmas tree lights on! Great Ayton shops took part in an Angel Trail competition - entry forms were available from shops and the Discovery Centre or at the event at a cost of 50p. The idea was to look for the angels in shop windows, each with a unique letter on them, find them all then solve the anagram! The competition closed on Saturday 3rd December 2016.
VisitGreatAyton were also running a competition - visitors needed to look out for their goody bags at the event! There will be a number in each bag which will need entering on their website - enter the number to find out if you've won one a six great prizes, smaller prizes available for all entrants! All prizes courtesy of local Great Ayton businesses.
A huge congratulations to Mrs Plews of Great Ayton who won the Great Ayton Business Forum Christmas Angel Trail Competition! Read more

Contacting the Great Ayton Ayton Business Forum - please contact info@greataytonbusinessforum.org.uk