Great Ayton Moor - Starfish Site
Situated on Hutton Moor near Great Ayton lies a significant historical WWII site.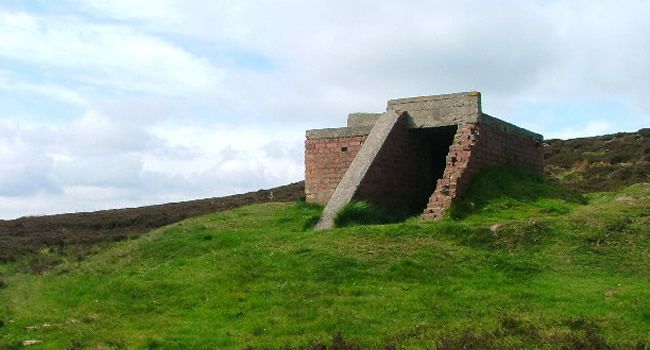 'Bomber Decoy Command Bunker' image copyright of Mike Garratt (Attribution-ShareAlike 2.0 Generic (CC BY-SA 2.0))
On the 25th May 1940, Middlesbrough was bombed during WWII with aim to attack and bring down the important and thriving iron and steelwork industries of the area. In September the same year saw the opening of the German bombing offensive in London, which came to be known as the Blitz. The attacks spread to other larger cities across the country, such as the complete destruction in Coventry.
With response in protecting vulnerable cities, defence strategies were implemented, including the Gisborough Moor 'Starfish' site, one of five protecting Middlesbrough and area. The concept behind these sites was to deceive the enemy and mislead them into thinking they were burning cities. The bunkers would be doused in fuel and set on fire and smoke would billow out leading the enemy planes to bomb the moors instead of the towns and cities which sat in darkness.
Start at Gribdale Gate - Map ref: NZ 592 110
Distance: Approx 4 miles
Duration: 1 - 2 hrs
Endurance: Moderate
By car

Travel along Great Ayton High Street from the Stone Bridge with the River Leven in your right
You will find the High Green on your right after a couple moments drive. You will see a sign-post for Great Ayton station, turn right here and follow Station Road
At the mini-roundabout take the first exit and follow the road, past the train station and straight on at the crossroads on Dikes Lane
The road will bend to the left at Gribdale Terrace with a steep hill which then bends to the right. Keep going on this road, over the cattlegrid, and you will find Gribdale carpark
You will see a gate and a Forestry Commission sign for Gribdale Gate, you will need to cross the road and take the right-hand side path, leading up the hill and past the 'SSSI Moorland' sign (map ref: NZ 5940 1120)
At the fork take a right and walk for approx 1 mile and then turn left before the gate (map ref: NZ 6062 1187)
Carry on up the hill and at the top you will notice a concrete structure, this is the Gisborough Moor 'Starfish' bunker site
After reflecting on a key moment in history and taking in the breath-taking views, which, on a clear day you can see the east coast, carry on along the path downhill to a gate
Enter through the gate and turn left and travel uphill
You will shortly approach another gate to Little Roseberry and will see Roseberry Topping ahead
Turn left before the gate and follow the dry-stone wall on your right all away back along the track, this will loop you back to Gribdale carpark
You will reach a gate after approx 10 - 15 mins walk (map ref: NZ 5924 1105), head through the gate and take the steps back down to Gribdale carpark
By train
When leaving the paltform take the steps up to the road immediately to your right
At the top of the steps turn right onto the road
Keep following the road straight on at the crossroads on Dikes Lane
After a little while the road will bend to the left at Gribdale Terrace with a steep hill which then bends to the right. Keep going on this road, over the cattlegrid, and you will find Gribdale carpark
You will see a gate and a Forestry Commission sign for Gribdale Gate, you will need to cross the road and take the right-hand side path, leading up the hill and past the 'SSSI Moorland' sign (map ref: NZ 5940 1120)
At the fork take a right and walk for approx 1 mile and then turn left before the gate (map ref: NZ 6062 1187)
Carry on up the hill and at the top you will notice a concrete structure, this is the Gisborough Moor 'Starfish' bunker site
After reflecting on a key moment in history and taking in the breath-taking views, which, on a clear day you can see the east coast, carry on along the path downhill to a gate
Enter through the gate and turn left and travel uphill
You will shortly approach another gate to Little Roseberry and will see Roseberry Topping ahead
Turn left before the gate and follow the dry-stone wall on your right all away back along the track, this will loop you back to Gribdale carpark
You will reach a gate after approx 10 - 15 mins walk (map ref: NZ 5924 1105), head through the gate and take the steps back down to Gribdale carpark
Great Ayton Moor on the map
Other activities in Great Ayton